The garden is land, which are used for various agricultural experiments, but in order, in order to relax after a hard working day, dinner, chat with friends. What you need in order, that would comfortably rest in the garden? Right, we need creativity to decorate this garden. Many ideas will make the garden a magical fairy-tale, and, material costs will be almost no. Consider a few of these
creative and original ideas for garden
!
Idea # 1 – Music of wind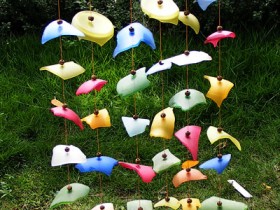 Mankind in the history of his life many times used the power of the elements (water, fire, wind). How does this relate to your garden? The idea of "music wind" is a creative use of the wind. With a special suspension, which are placed on lampposts, in the gazebo, on the branches of trees, you can create in your garden a variety of warm melodies, called "music of wind". In addition, that such suspensions, there is quite a lot in the market of designer jewelry garden, you can also create your own hands. Available materials, which you need is a bottle of wine, old CDs, shell, colored glass, as well as fishing line or a stick, which will it be fixed. As for striking examples of "music wind", they include:
Pendant made from sea shells, which will remind you of the sea, its sight and sound, at the slightest gust of wind.
Suspension of CDs, giving your garden the techno-touch, reflecting the sunbeams on its entire territory.
The suspension of colored beads, which is harmonious on the background of white birch.
Hanging candle holders, that light soft light a small piece of garden, making it romantic and cozy.
Idea # 2 – Figures made of pebbles and colored sawdust
Very often we have a master in your own garden, and the most popular material for this is wood. And as always, after these works we still have sawdust, which all in such a hurry to sweep and throw away. And then there is another idea for garden decoration. What, if some way to use these chips? A little tapping your creativity, the idea of painted sawdust figurines. All you need to do the appropriate form for the figure, to install the form on the ground and strebovat in her sawdust, which further painted in any color. It looks very original and beautiful, don't need a significant material costs. If you don't want to fool with sawdust, you can also use small pebbles, the principle of creating the figures is the same, and the beauty is not inferior figure of sawdust.
Idea # 3 – Live screen to give
Not always stay in a decorated garden delivers the desired warmth and comfort, especially if you want to relax with a Cup of coffee or a glass of wine. The problem of shortage of comfort – vulnerability from prying eyes. Of course, you can hide behind the fence or the wall of the house, but it is very inconvenient and will not let you, how to relax. Solution to this problem are a live screen to give or so-called hedges. See photo examples of hedges for garden. For this purpose, twining and climbing plants, such as: Turkish beans, hops climbing, nasturtium large, Wisteria etc. Another option is a live screen – low trees and bushes (maple American, Titania, miscanthus, etc.). The main thing that you should consider, – flowering time, tillering and growth of plants.
Idea # 4 – Garden "roots" – Rotary
Rotary the word is a portmanteau. the word "root" means, how did you know "roots garden". The idea, to decorate your garden with all sorts of tree roots, stumps, snags and branches. To do this you need all these components trees, and a little imagination. The roots of the trees fit well into the interior of the garden, making a single composition with the bushes, flowers, stones, ornamental trees etc. Do not forget to treat the roots of special funds, protecting against timber decay and insect damage. The advantage is that rotary, your garden 100% be unique and inimitable, because. identical roots and snags do not exist!
Idea No. 5 – a Fence made of flower niches
The only, that often does not fit into the overall picture of decorated garden – boring, inconspicuous fence. Often owners think, what's wrong with him, nothing special can be done and throw all so, as is. If you are thinking of the decoration of the fence, the idea of the fence from the flower niches especially for you. To implement it is very simple: all, you need a wooden box, you want to hang the bottom to the fence, and inside put pots with flowers. It looks very nice and original.
Idea # 6 – Wicker garden furniture
Braided garden furniture very harmoniously complements the overall picture of garden decor. The advantage of such furniture is that, she is resistant to atmospheric humidity and has a high environmental friendliness, and the rest on this furniture even more relaxing.
Liked the article? Easily share your bookmark with your friends, social. networks: