New year, the holiday, we all look forward to and, probably, more than his birthday! Even a few weeks prior to this anniversary we are preparing gifts for loved ones, draw up a menu and carefully decorate the house with garden plot. About, how beautiful and original way to decorate the estate and will be discussed.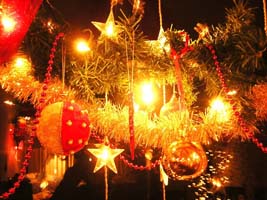 We have, as in the West was adopted to decorate not only the inside of that house before the New Year, but outside. It is well, if on the way home, to triumph, we will raise even more festive mood, the brightly decorated garden and facade of the house! If the preparation of the festive menu can be left for the last days, the planning of the decorations must be carried out much earlier.
Christmas wreaths
A common attribute of Christmas decorations Christmas wreaths are considered. As the theater begins with a hanger, and Christmas decoration starts with a wicket. Christmas wreaths of fir branches and cones will brightly decorate the entrance gate, the fence and door directly into the house.
Garlands of fir branches
To decorate the front of the house we use electric lights, serpentine, neon tape, bumps, bows, and garlands of fir branches. The latter will give your home even more Christmas atmosphere and mood.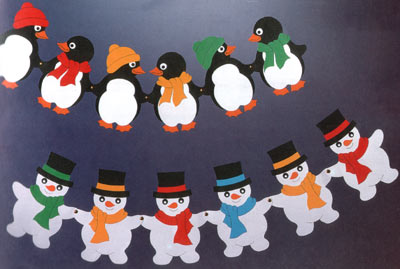 Living Christmas tree
Well, the main decoration for your Christmas garden, of course, can be considered a live tree. Even if your garden does not have its own Christmas tree, you can buy it in a special container, and in the spring to transplant into the soil.
Christmas toys with their hands
For this lesson, we always want more, especially if you have children, younger brothers/sisters/nephews. Christmas toys are quickly and easily created with your own hands, to do this, use foil, fabric, beads, rope, bumps, light bulb, colored paper, plastic and even ice, in General improvised.
Something to use for a basis, as a new year toy ice, to do this in cups yogurt, or in nest boxes of chocolates into the water, colored with watercolors and put in the freezer. Don't forget to put in the center of the wire or a piece of yarn, then that would be the original Christmas toy can be hung anywhere in the garden.
24 photo ideas create Christmas toys with their hands, improvised:
Festive illumination
But the final element of Christmas decoration is festive illumination. This includes fireworks, lamps and candles, placed throughout the garden plot, garden sculptures, made of snow and ice and all that, that will blend in and create the feeling of a New Year. You should not just forget about a snowman, cobbled together near the gate. It will protect your house from enemies and to lighten the mood by passing people.
Video Christmas decoration from paper
;
So I advise to view lighting and decoration garden plot!
Liked the article? Easily share your bookmark with your friends, social. networks: