The British believe, to create a perfect lawn in their traditional style, you need to cut the grass lawn for at least 2 centuries. And in truth, looking at, how neat and tidy their garden plot, more and more light up with the thought, as if to make himself such a lovely garden. Of course, that our life is not enough, in order to create a real lawn, that is why popular nowadays steel rolling lawns and special seeds, which will quickly decorate the area, creating
English
garden style. In order to care for your lawn (and in any case you will need to do), you need to get special outdoor equipment, in the form of a lawn mower or trimmer. The last is a favorite of gardeners, because. it is compact and easier to operate. Let us examine this miracle of technology for read more.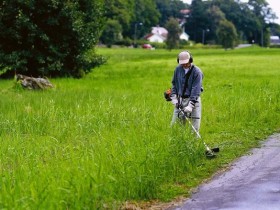 The main advantage of the trimmer in relation to the mower is, that is correct if working with it can avoid ridged streaks on the surface of the lawn, which very often leaves the mower. Having experience with the trimmer, you can get a perfectly smooth lawn covering. To operate such equipment should be carefully, holding a certain level from the earth's surface. Many models have the option of adjusting the height of mowing. She cut grass is delicate and requires in relation to itself, the observance of certain rules, which we will discuss later.
The nuances of choosing the right trimmer for lawn

First of all, the choice of trimmer you need to implement depending on the purpose of its use. Immediately it should be noted the main indicators, which is selected trimmer:
Engine type
This indicator is one of the most important, because. the type of engine will depend on the efficiency, price-performance trimmer. Of course, electric models are more economical and easy to maintain. Their advantage as well in environmental friendliness and low price. As for petrol trimmers, they have great performance (professional models can at one time process 50-60 acres of turf grass).
Comfort
Most of the new models constructed in such a way, that they would be able to use even a woman. The comfort trimmer, so is his weight, dimensions and noise level. The latter is a very important, and it should be noted, the petrol models are much louder, than electric.
Manufacturer
A significant role is played by the manufacturer of garden trimmers. As for the leaders in this business, they are a world famous company STIHL and its main competitor HItachi. And he and the manufacturer produces models the Pro category, which are extremely powerful and reliable. Not to say that other manufacturers of trimmers are much worse, but if you decide to buy this unit, I advise you not to spare money and get the trimmers of those firms.
The pitch
If you just planted grass, and it is not already running, it is recommended to buy electrochimie, which is good, related lawn maintenance. If a garden plot overgrown perennials large size, for their haircut, you need to buy a more powerful petrol model trimmers.
The price of lawn care: how much is a trimmer?
To date, the trimmer is not something that is unique and difficult for the gardener. In Ukraine, the price of this machinery starts from 800 UAH and above. Agree, in order, that would be all day to enjoy the manicured lawn, you can pay the same amount.
In General, the price of the trimmer varies, because. there are many manufacturers of this equipment, as well as different class and package units. Cheaper models are equipped with a system of Leskova mowing grass. With increasing prices, changing and cutting part: the steel knives or denser line. Experienced growers recommends to save some money and buy a relatively inexpensive high-quality elektrochemie Bosch,Flymo, STIGA.
If you have money, it is recommended to choose braids, equipped with lithium-ion batteries. You can also choose the device, which have handles created from alloy materials and is able to adjust the height of the knives, this will make the job easier and more comfortable. Pay attention to the width of, she must be at least 450 mm. Usually, have expensive KOs included are steel knives for mowing shrubs. The location of the engine also plays an important role, if he is at the top – the output will be more.
When buying a trimmer, ask your adviser, does the length of the handles, because each person's growth is different and if you are ready to invest their money in such a unit, it must be tailored to you, and not you for it.
Summing up, we can say, when buying a trimmer is better to give their preference to more expensive models, because. they come with extra set of blades and telescopic handles.
Features of operation of the trimmer
When working with the trimmer you need to follow a few simple rules, which will prolong its service life. Among the basic rules, experienced growers allocate:
1. Be sure to take extra sets of knives and fishing line
2. When servicing, use trimmer gear grease
3. If the engine is at the bottom, not salivate wet grass
4. Control the temperature of the engine. Cheap models do not have the function of thermal shutdown.
5. When buying a trimmer is not to get confused and not get motokazu or garden shears. This is a different technique, which is designed for different plant care.
6. In the case, if the device is beginning to work like that for others (makes excessive noise, vibrating, stalls), immediately take it to a service center, to avoid faulty breakage.
Features of lawn care
In order, what would your lawn was aesthetically beautiful and had lain for a long period of time, it is recommended to follow these rules:
Lawn care is carried out immediately after his ascent.
Do not walk on the lawn, which is another year
Protect your lawn from animals with fencing
If possible, use lawn fertilizer
If suddenly damaged area of turf grass, podsafe new and seal with a sheet of plywood or rink
On the day of planting lawn grasses this place should be thoroughly watered in the evening
If you notice the grass beginning to be struck by disease, action must be taken immediately, because. the pathogen can quickly infect the entire area
That would be after winter lawn grass not covered by snow mold, fall replace nitrogen fertilizer on potassium and phosphorus
Spend agro-technical measures to combat powdery mildew and bulging of the plot of grass carpet
Spend aeration of the soil (for this purpose, the fork)
During a drought fertilize lawn phosphorus fertilizer (superphosphate)
During the active growth of turf grass you need to mow it 2 times per week
Autumn, in the spring and summer drought, the grass cutting is carried out once a week
Dwarf and Moorish lawn cut no more than two times per year
It is also worth noting, the trimmer is only one variant of equipment for garden care, there are many options, which also should get. For example, that would be even more convenient to monitor the lawn, it is necessary to combine the operation of the trimmer with the mower, because each has its own advantages. To complement the figured lawn with trees and bushes, you need to use garden shears. And don't forget, that any garden equipment you can create your own hands, so if you have a craving for technology, we wish you to have great ideas and create your own, unique garden unit!
Liked the article? Easily share your bookmark with your friends, social. networks: