Another novelty in the field of landscape design garden – vertical gardening with basket plant. As the trend, and related plant varieties came to us from the distant European and enjoy great popularity.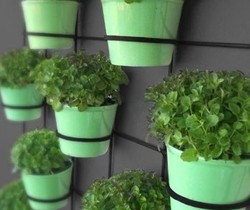 With regard to plant varieties, which are used for vertical gardening, they include: Petunia, nasturtium, pelargonium, begonia, fuchsia etc. They are all designed to kaslo and hanging pots, pots and baskets. The unusual appearance of these plants and easy to care leave only pleasant impressions from gourmet gardeners and novices.
The advantages of vertical gardening using basket plant
Of course, the fact, it is not necessary to weed the flowerbed, pull weeds and mulch the soil is the main advantage of vertical gardening. As well the advantage of such design solutions is, that the cultivation of ornamental plants will be under force even to the beginner, after all, the fruits of his work, he will be able to see for the first year.
Another nice point is, what vertical gardening does not occupy a large area, but at the same time as decorate the site. If the flowers start to wither they can be easily replaced with new, creating continuous bloom the entire composition.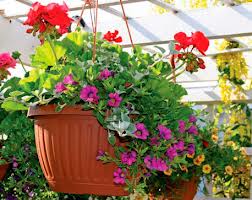 Another advantage of basket plant is, they can easily brighten a bare wall or to conceal small defects in the fences, or all the same wall.
How to choose cello and hanging basket pots for plants
Everything is simple. If watering can be carried out at least 2-3 times a week, choose a clay or wooden cello, because. they allow very good air and evaporate moisture. If plants decorate the suburban area – it is necessary to choose the material, which long retains moisture (plastics, metal, glass). You need to understand, an excess of moisture and lack of air can lead to illness and even death of the plant, therefore, in non-porous pots and kaslo to do the drainage holes. Just keep in mind the size kaslo, because. different plants have different root system and if the capacity of the root will be close, it is also no good will not lead.
A container, the pot basket plant with your hands
If you a creative person and do not want to buy ordinary kaslo and pots, always can own hands to create a unique capacity for vertical gardening. All you need is creative thinking, a little improvised and free time. As the available tools can be plastic bottles, cardboard packs with milk, tires etc. Using acrylic paints, glue and various decorations (pebbles, paper, shells, broken glass), create the needed design kaslo their hands and put it plant. Ready!
Liked the article? Easily share your bookmark with your friends, social. networks: