Tired of straightness and orderliness of the streets and houses, city dwellers are increasingly trying to create on his dacha natural garden style. Relax in the landscaped garden has a stunning ability to create comfort and to distract your attention from urban problems and hassles, making a garden area for guests to relax.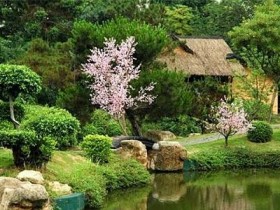 Landscape style garden was invented in the UK 18 century, replacing regular gardens, from which it is very different. Researchers believe, the landscape style was influenced by the philosophical idea of unity with nature, which was very popular at this time, as well as familiarity of Europeans with the unique at the time Chinese gardens.
Features landscape garden style, the English garden
The main feature of the landscape style is the creation in the garden of a piece of nature, which could organically fit into the surrounding area and create a look, what is the designer's job here is not included. For the English landscape style characteristic smooth lines and contours of the constituent elements, randomness, as well as asymmetry and free positioning of all elements of the decor (garden paths, shrubs, alleys etc.). Don't think, this landscape garden seem messy and uncomfortable, on the contrary, with the right planning and the subtle taste of the designer you will feel not "Lord" of the garden, as part of. As a characteristic feature of the landscape style or English style garden, is the hills terrain, which if necessary you can create with your own hands.
The plant world English, landscape garden
For the English garden, landscape style, characteristic plants are, which correspond to the area. As such, the distribution of plants no (because. mentioned, in the garden there is a randomness), but the designers of the landscape is recommended to sit the plants on the principle of: large trees, shrubs, flowers, lawn. Takes into account also the seasonal changes of color of leaves, colors and herbaceous plants, because. with proper selection of plants, you can do garden year-round. Don't forget to take care of the garden, that he would not "start", for this you need to mow the lawn, planting tiers, but also to mulch the soil. Although native to the area plants are considered to be more appropriate landscape garden, it is not excluded also exotic plants. Will harmonize perfectly with the composition of plants with ornamental foliage and color, grasses and hedges. Regarding the latter, then they can gracefully decorate the arches and pergolas garden plot.
Ponds in the landscape style
If you are the lucky winner of the garden, which is a small natural pond, so, to create a landscape style does not require additional activities. If pond there (as is often the case), then do not be lazy and create an artificial pond with his hands. Don't make it strict geometrical shapes, on the contrary, don't forget, the garden will reflect a piece of wild nature, therefore, the shape of the reservoir should be round, oval or bean-shaped. The coastline should be clear, optional decorated with gravel, sand and seaside plants.
Small architectural forms for landscape garden
On the basis of, the garden is made as much like a piece of nature, architectural forms should be chosen taking into account the combination of the composition. The correct solution would be to install feeders and drinkers for birds, which will add to your garden plot few natural melodies. Garden figures, decorative lamps and various Antiques will add originality garden. Track, paved with natural materials (such as wooden saw cut and natural stone) will be in harmony with garden bridges, located on the pond. Do not forget also about gazebos, located in a quiet corners of the gardens, which can be decorated with decorative lights and climbing plants to create a romantic atmosphere.
English garden for modern life
The emphasis on architectural unity is the hallmark of the British designer gardens Christopher Bradley-Hole, his spontaneous sense of beauty to add to the joy.
Chic, urban look, especially for urban gardens, was very popular in the UK since the mid 1990-ies, when he was promoted (among other) Dan Pearson and Stephen Woodhams. This trend of design has been the development of functionalism, Modernist ideas of John Brooks, who came to fame in the 1970's, with gardens, with a lattice pattern, which have been specially designed for people and their needs in the leisure, not for gardening, which had previously been a British tradition. Brooks was influenced by California modernists, such as Thomas Church, but his work, and his British followers has always been a constant interest in plants. This crossover between gardening and Modernism was a typical British compromise, which actually worked pretty well. This kind of gave mass appeal in the late 1990s and early 2000-ies splash garden programs "makeover", on British television, promoting charms decking, BBQ, "water bodies", architectural plants in planters of stainless steel and cobalt-blue pots for decoration. The result was some negative reaction from the experts, but the popularity of this approach, when it was implemented at a high level, not decreased.
Modernist Christopher Bradley-Hole
Originally trained as an architect, Christopher Bradley-hole is a thorough Modernist, committed to the doctrines of functionalism, asymmetry and architectural unity, who supports this ideology of design. The European movement for a new wave have strongly influenced his work over the last decade, but he comes from a completely different tradition. Naturalistic plantings always look good against a smooth white or grey concrete Modernist buildings or bordering the expansive decks made of cedar wood, familiar with the California Modernist tradition of Thomas Church and others, but Bradley-hole went much deeper into the philosophy of planting, than any of his Modernist ancestors or contemporaries.
Style Bradley-Hole is closely connected to customer needs—regardless of, if they have children, whether they are keen gardeners, what time of day they like to use the garden. For a London client with a young family, Bradley-hole has created a simple space, shown below, consisting of trees, sculpture depicted on the colored concrete walls, to enable children to play in open space in the centre of the garden, while adults can enjoy an elegant retreat for evening cocktails.
This attention to Bradley hall to detail, as in planting, or solid materials, that's his signature, feature, which he attributes to his Modernist background. Typical Bradley-hole's garden design combines formal rigor with violent, but carefully planned drift planting perennials and tall grasses, such as Tyrsa in the corner. In one recent garden in Sussex (shown on these pages) he brought that methodology to its logical conclusion in formalist terms, creating a simple (but most) mesh landing areas, designing each one individually. The result is a burnt, moving ocean plants, awash with gold, blue, purple and red.
Bradley-Hole works mainly for private clients, keeping your practice is relatively small and non-corporate, as is the case with most British garden designers. However, one of its newest projects, undoubtedly, is large and loud: redesign region, that was the playing field at the former Arsenal football stadium in Highbury, North London. Here, he turns the space into a communal garden for the residents of the new apartments, informally divided into various garden "rooms", organized on an abstract grid of hedges and glass walls, many of which are also waterfalls.
Liked the article? Easily share your bookmark with your friends, social. networks: