Every child craves to have a private room. For a kid, it's his own world., in which he will be able to play, create and relax. Caring parents put in a lot of effort, to equip a cozy, safe and beautiful nursery, even if its area is only 10 kV. m. Best design of children's room to order from professionals. They will be able to make the most of the free space and satisfy the preferences of even the most demanding baby..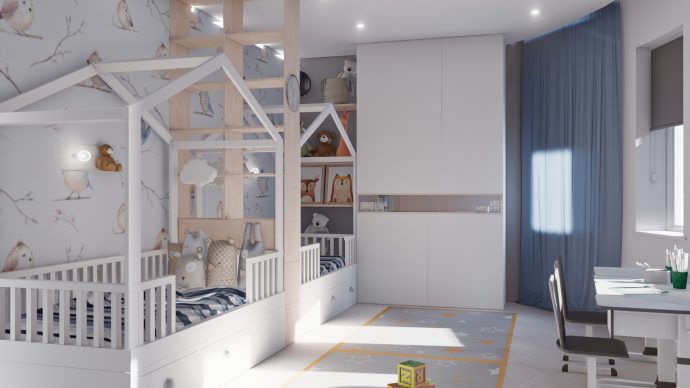 Zoning
10 kV. m. enough, to accommodate multiple functional areas, namely a place to sleep and change clothes. Zoning of space directly depends on the age and hobbies of the child. In the room of the newborn there must be a place to install a changing table and a playpen.
For preschool and primary school children, it is important to equip a play area with a soft carpet on the floor and take care of a basket or box for storing toys..
Schoolchildren need a workplace, which should be equipped with a comfortable desk and a comfortable chair. It is better to place the area for classes near the window, that there is enough natural light. As an additional light source, it is advisable to use a table lamp or sconces.
If the child is fond of sports, why not create a sports corner, where the kid can train, from the comfort of home. For children, who love to read, an excellent solution will be a cozy place to read with a coffee table and an armchair.
You can zone a space using:
furniture;

Colors;

Lighting.
You can separate the place for sleeping and the working area with the help of a floor rack-partition for books. Such furniture is not only functional, but also looks very stylish and aesthetically pleasing. To divide the room into several zones will help different color solutions, Suppose, the space above the workplace can be decorated in beige, and the area above the bed is a tone lighter. A good option for zoning with the help of lighting. Functional areas are illuminated by different types of lighting fixtures.
Attention! When zoning a space, it is important to leave enough free space, so that the child can comfortably move around the room, play and change clothes.
Choose a style
The design of the nursery should correspond to the floor, Age, habits and hobbies of the child. Today, there are many modern styles., among which you can choose the optimal solution, which will satisfy the preferences of the baby.
Scandinavian style
A great choice for children under the age of 12 years, as well as overly active babies. Children's scandi will turn out to be light, Spacious, Good.
Characteristic features of the style:
white, Gray, beige shades;

absence of dark and irritating bright colors;

natural materials;

animal motifs in décor.
The child will be comfortable in the room at any time of the day.
Loft
It is the perfect solution for a teenager's room regardless of gender. Fashionable modern interior attracts with its contrasting eccentric appearance, bright accents in combination with brick or concrete walls look very atmospheric.
Hi-tech
Innovative style will appeal to the child, who is fond of electronics and technology. High-tech is distinguished by the presence of a lot of modern technology, Compact, the absence of useless decor and a strict color palette.
Eco-style
Eco-friendliness in the interior will appeal to children, loving nature. Natural materials, live green plants, light natural shades will create a pleasant peaceful atmosphere.
Colors
When choosing a palette, it is important to consider the influence of colors on a person.. Known, that red acts as an irritant, is able to cause aggressiveness in a child, Blue soothes, green relaxes.
It is important! It is not recommended to decorate the interior of the nursery in one tone or cold color. The most comfortable for a baby of two- or three-color warm finish.
If you decide to order interior design, price per meter matters. In order not to overpay, order a nursery project in ReRooms. The online service operates at fixed rates based on the number of premises, not qv. m.
Here's one of the customer reviews, which was executed design project with repair:
Also recall this release on YouTube, in which they talked about the trend 2021-2022 years – volboards and told, what is portable wallpaper. Learned, how to arrange an exhibition at home and found out, how to make a high-speed repair. Broadcast from Wall Street, presenters Julia Redko and Anastasia Aleikina:
Liked the article? Easily share your bookmark with your friends, social. networks: