With the arrival of spring, garden work appears on the site.. High-quality gardening equipment and reliable tools, allow you to simplify and speed up gardening. In this review, we will look at products from the Gardena company, which can be purchased from the official online store https://gard-shop.ru/, at good prices and German quality.
Robot lawn mower Gardena Smart Sileno +
CHARACTERISTICS:
Cutting width : 22 cm;
Cutting height : 20-60 mm;
Maximum lawn area: 1600 m sq.;
Slopes: 35%;
Battery Type: lithium 18 In;
Charging time: 50 min.;
Average running time: 65 minutes;
Noise level: 56-60 dB;
Dimensions: 63x51x25 cm;
Weight: 8,5 kg.
REASONS TO BUY:
+ Ideal for large and challenging lawns;
+ Smartphone monitoring and control;
+ Intellectual work.
Smart Sileno + is part of the Gardena line of intelligent systems, which includes electronic timers and automatic garden sprinklers. It is convenient, because devices not only communicate with each other when connected to a gateway through a home router, but also have Internet access, this means, that you can control them remotely with a free app Gardena smart system for iOS and Android. Clever.
In practice, this means, that Gardena Smart Sileno Robot Mower + knows, how to mow a garden only then, when the garden sprinkler is not working. It also includes Gardena's SensorCut system, which effectively measures the height of the grass, therefore only mows the lawn then, when it is necessary. Anything else? Unlike less productive mowers, Gardena Smart Sileno + can handle complex, sloping lawns (with a slope up to 35%) and easily navigate even in narrow areas.
GARDENA AQUABLOOM Solar Irrigation System, offline
Rain alone is not enough, to water a medium-sized potted plant in the area, which can dry out quickly within hours or days, if so and leave it unattended and recharged, in the hot summer sun. The problem is still, that we often forget to water on time, realizing this mistake only then, when the flower starts to wither.
Gardena comes to the rescue with a rather eccentric solution., consisting of an ordinary bucket of water, solar pump, multiple irrigation pipes and heaps of drippers for effective pressure compensation in the system. How it works? It's simple - fill this bucket with water, with or without fertilizers. (it is advisable to cover the bucket with a lid on top, so that there is a slower evaporation of water), then connect the supplied tube to the maximum 20 pots at a time and attach the droppers. Now we connect this whole structure to the solar pump and choose one of the 14 preset irrigation programs (see the detailed description of the programs in the instructions).
Ready, now water itself is automatically drawn from a bucket covered from evaporation and drips smoothly into each pot, and now you don't even need to "lift your finger" for this and you don't have to worry. Then just add water to the bucket.
Advantages and disadvantages of the model:
+

Supports watering up to 20 potted plants;

+

Easy to set up and choose from 14 programs;

+

No electricity or running water required, autonomous operation of the device from the sun;

–

Looks a little ugly, tubes can impair the aesthetic appearance.
GARDENA PREMIUM PULSE Powerful Impulse Sprinkler
MODEL CHARACTERISTICS:
A type: Impulse Sprinkler;
Territory coverage: to 490 kV. M.;
Nozzles included: 1 PCs.
REASONS TO BUY A SPRINKLER:
+ Great for large gardens;
+ Creates the "sound of summer" - ts-ts-ts-ts-tsa.
REASONS TO AVOID SHOPPING:
- Gentle, although not a fragile structure.
This model is especially well suited for large lawns and areas up to 500 m2. There's still a reason, which we all love so much for pulsating or percussion sprinklers, sprinklers, is, that they personify the unique sound of summer and especially summer cottages, country house or countryside. Everyone loves the soothing sound of water droplets flying out c-c-c-c-ck, emitted by an irrigation system on a hot summer evening, sipping a cocktail in the shade or strolling around the garden. Install this irrigation model on your lawn, and you will always feel like you are out of town.
Impulse sprinklers look like a result of, that someone found a bunch of metal and plastic pieces and folded them fancifully all together in a workshop. They are quite delicate in design and do not like at all, when they are trampled, throw, hit. But they are some of the best options for watering your lawn long distances to the sides..
In the design of the modern pulse sprinkler from Gardena Premium Pulse, durable metal and plastic are used. The Premium Pulse sprinkler is equipped with a reliable and precision-cut brass nozzle, which has to work under pressure from day to day, does not rust and produce powerful splashes to the sides, long distances. The range of reliable irrigation coverage ranges from 10 to 25 meters, which is easily adjusted by means of a special large knob on the side of the device, and there is also a separate rotary knob for setting the irrigation sector from 25˚ to 360˚ degrees. It has a through connector, to connect multiple Premium Pulse sprinklers together, if necessary.
Garden Sprinkler GARDENA AQUAZOOM M
MODEL CHARACTERISTICS:
Type of watering: oscillating;
Territory coverage: to 250 kV. m;
Nozzles included: 16 pieces.
REASONS TO BUY:
+ Adjustable Sprinkler Nozzles;
+ Produces comparatively larger water droplets, than the Premium Pulse model.
REASONS TO AVOID SHOPPING:
As tests show, not very large lateral irrigation range.
16 water nozzles model Gardena AQUAZOOM M, can be quickly adjusted for wider or narrower droplet outreach, depending on the size and shape of your garden. The Gardena system uses two rows of permanently installed nozzles, which can only be directed from side to side, to provide a narrow or wide irrigation area, or adjust like this, so that one group of nozzles forms a single whole - a straight line, let's say, along the edge of the path, while another group of nozzles irrigates the rest of the lawn and the flower bed on the side.
The nozzles in the AQUAZOOM M model are wider, than usual or than the previous model, this means, that the range is far from that high. Increased amount of water, coming out of each nozzle, very similar to regular rain, which provides more water for every swing of the sprinkler jet.
If you have a larger garden, than 10 meters per 5 meters or your water pressure is low, for one reason or another, it, possible, abandon this particular model. If the lawn is small and has an unusual shape and you want to water the lawn and beds with plenty of water per pass, then this model will suit you all the same.
Gardena Retractable Hose Reel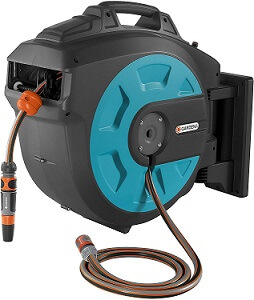 Gardena is a very popular name, as they have received many positive user reviews in the past. Here is a retractable garden hose from Gardena.
Gardena Retractable Hose Reel. This is the longest ⅝ "or 1,5875 cm., the length of which reaches 115 feet or 35 meters. To turn on retraction - you need to pull a little on it. This movement will release the internal automatic lock., and the hose will retract without any kinks or cracks, like a wire in a vacuum cleaner. Built-in steel spring provides very powerful retraction, required for longer hoses. There are also special hose guides for retracting, which prevent twisting or tangling, if the hose is not too twisted and tangled.
Supplied with hose guide bracket, which can be mounted on the wall. Along with this, the kit includes various other useful accessories, such as injectors, sprayers and cleaning brushes, which can be stored on the bracket itself for quick access.
The best features of this model:
Hose diameter 1,5875 cm.;
Long hose - 35 meters;
Can be easily pulled in with extra force;
Does not bend or crack when pulled in;
Integrated steel spring for powerful retraction;
Dedicated hose guides to prevent kinking and tangling;
Wall Mount Hose Guide Bracket;
Injectors, sprayers and cleaning brushes can be stored on the bracket;
All accessories included.
Plus GARDENA AQUAZOOM M:
The hose is really very long - 35 meters;
Retraction is fast and stable.
Cons of GARDENA AQUAZOOM M:
Not suitable for small connections and diameters;

Very high price tag.
GARDENA SLIMCUT Manual Lopper (12010-20)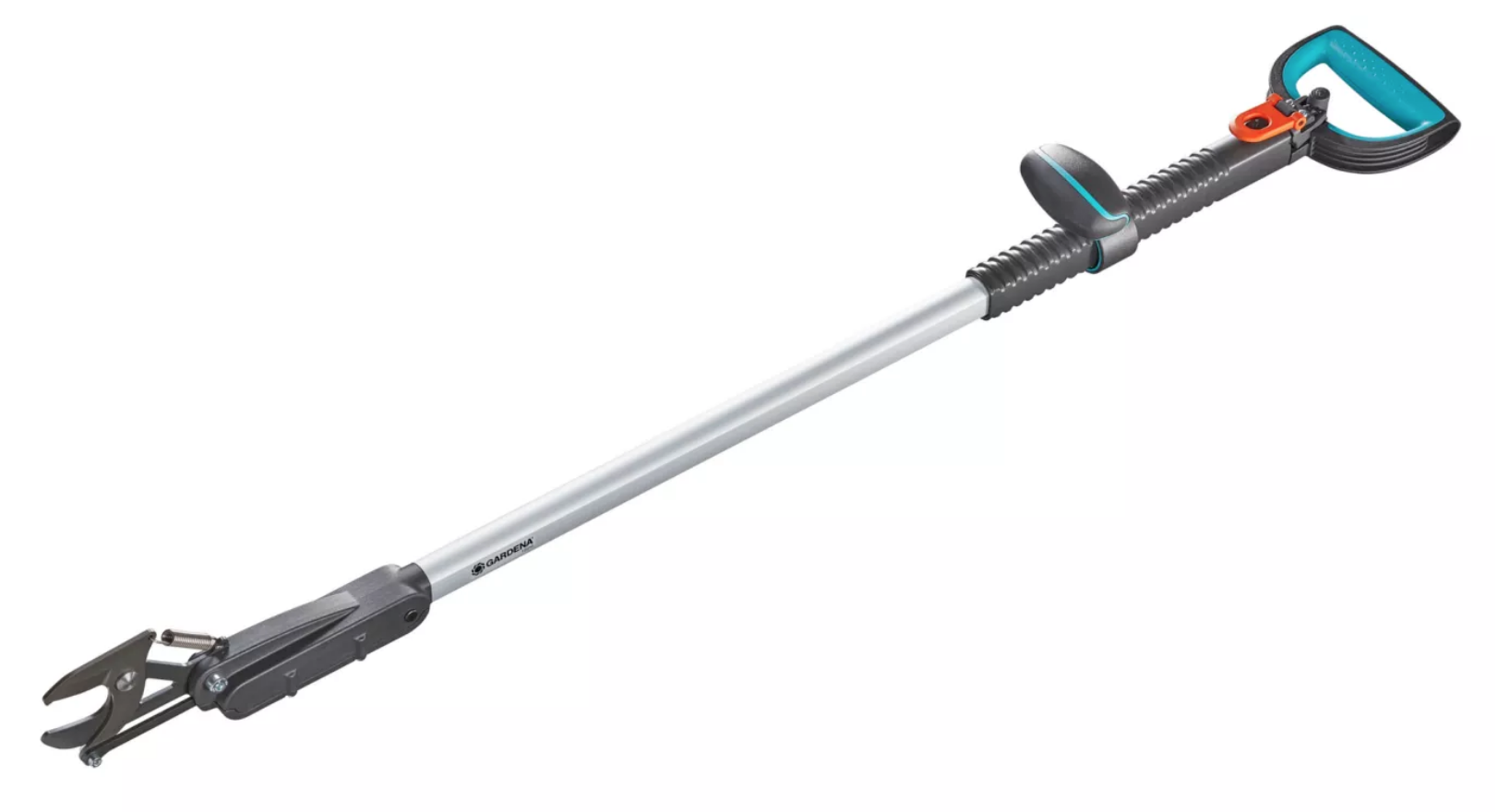 This long-reach delimber is a gardener's gem. No, true. Unlike conventional pruning shears, which requires a large number of movements of an outstretched arm - even more so, if it is an extension model - it uses an ingenious bow and arrow style system, which keeps both hands in the same plane.
To use the lopper, just place the palm of one hand on the adjustable lower handle, and the other grab the handle at the end. Now pull back, as if using a bow and arrow - the branch is cut without much effort. SlimCut has two modes: firm feel with short strokes - good for thin branches - and easier to use mode, which requires longer stretching of the arms, but great for cutting thicker branches.
Another great advantage of this system is that, that it allows the user to access hard-to-reach places, be it a branch, surrounded by dense foliage, or a branch a meter or more above your head. And all this without having to stretch out your arms.
If you often prune branches in hard-to-reach places, you have short arms or weak muscles in your arms and shoulders, then this model is highly recommended. It will change your life.
Секатор GARDENA GARDEN B/SM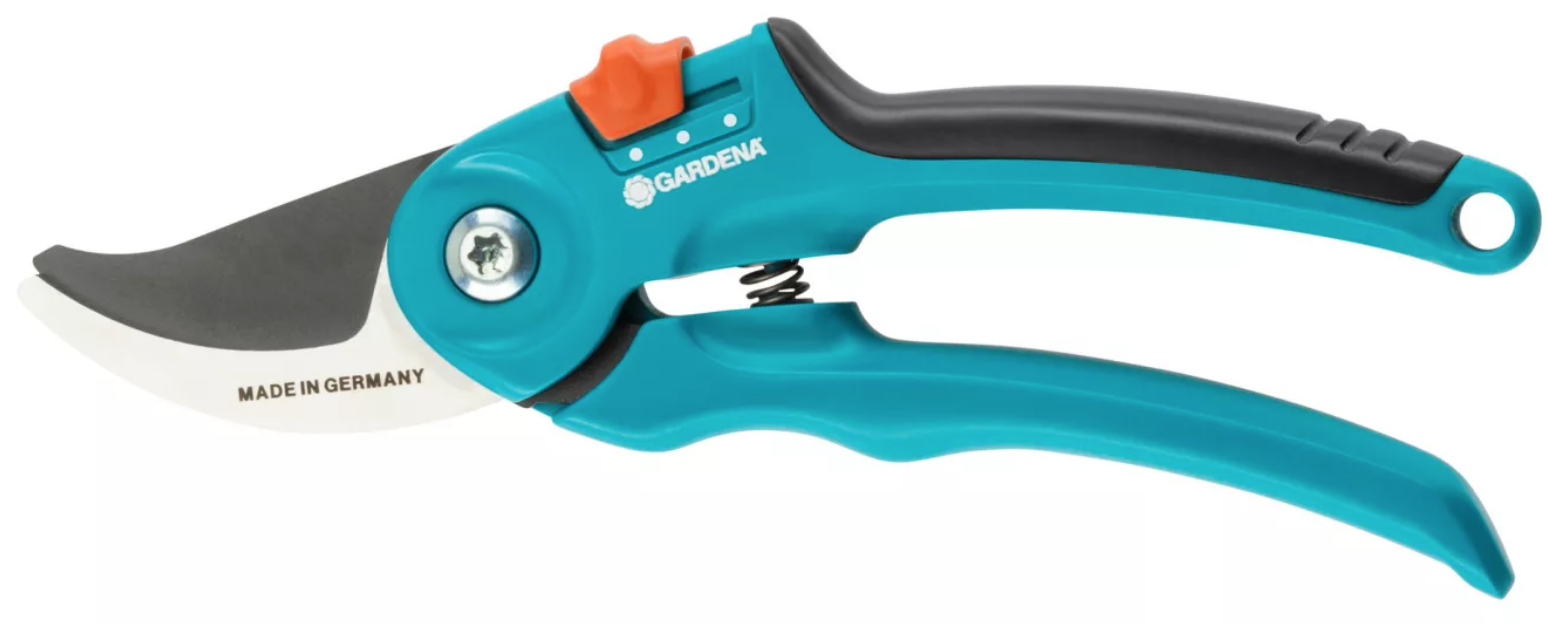 These inexpensive pruners are slightly larger, so, possible, consider them, if you have big hands.
Gardenas have two different knife widths and are equipped with stainless steel blades, covered with high quality plastic coating, which feels silky smooth and extraordinarily comfortable in the hand.
As you would expect from a company, renowned for its quality garden tools, they cut green stems and branches exceptionally well and are quite brightly colored, to stand out in the territory, where you will inevitably leave them after a rough treatment of bushes and trees.
Garden Saw GARDENA 135P
There are several branches, which are too thick for pruning shears or loppers? This folding saw is 135 mm does an excellent job of this task. Just unfold, choose one of three cutting angles, enter it and do your best. Gardena serrated saw blade sharpened on three sides, it's short and tough enough, to effortlessly cut branches up to 50 mm, possible, more. When done, just press the button and gently close the blade, as if snapping a knife.
If 135 mm seems like a too short blade and you need to cut a branch at a height of up to five meters, it, possible, consider the CS model 300 mm with Combisystem telescopic handle and curved tip for downward branching.
On the site https://gard-shop.ru/ you will find these and other garden products from Gardena, who were not included in this review.
Liked the article? Easily share your bookmark with your friends, social. networks: