Ukrainians become more concerned about their safety. If earlier, buying paints and varnishes for repair, we paid attention only to the price and color, now - also on hypoallergenicity, environmental friendliness, innovativeness. TM Kolorit offers practical and safe solutions for trendy interiors.
Classics and novelties
The company creates products for a full cycle of painting - from surface preparation to finishing works. On the site https://kolorit.ua/ there:
finishing putty, primers;

glue for glass wallpaper;

interior paints;

varnishes, enamels.
Working closely with the global manufacturer of paints and varnishes Tikkurila, the company Kraski Kolorit produces premium quality products. It is tested during the production of 90 parameters, before entering the market.
The assortment includes not only classic solutions. Kolorit introduced a tinted putty for the first time on the Ukrainian market. In 2020 antibacterial paint with nanosilver Argentic was launched in the year, allowing to protect the premises from harmful microorganisms. It is suitable for all surfaces, economical and easy to apply.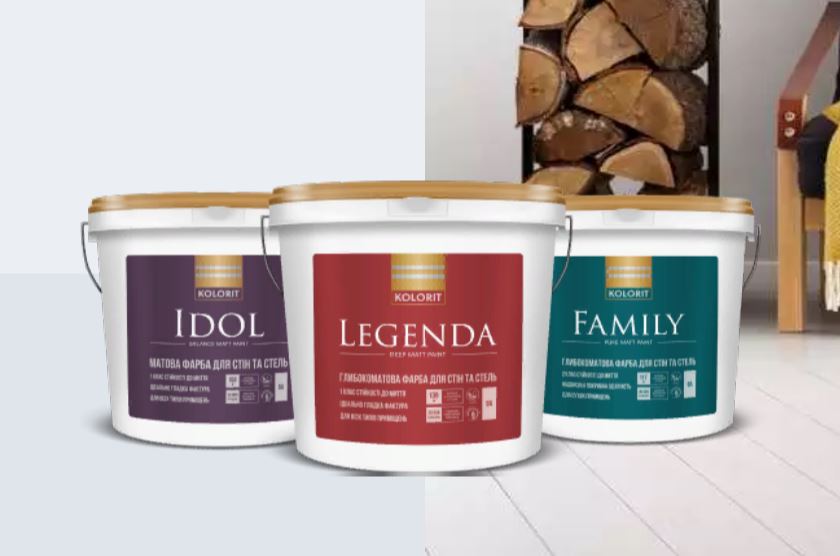 In addition, the company announced a collaboration with the famous interior design studio of Sergey Makhno. Buyers expect fresh design ideas and palette.
Benefits and features
Kolorit paints - interesting solutions for the home, apartments, office, children's and medical institution, catering, warehouses. They go out in 2 rulers - Home (for home) и Professional (for industrial and public spaces).
Home products are safe for the health of the elderly, children, allergy sufferers. It does not contain ammonia and phenols, does not cause allergies. Professional varnishes and paints have a high level of safety and durability. Products from both lines:
UV abrasion resistant.

Convenient to use due to special components.

developed according to reliable recipes.

Reliable and durable due to high technology, elite raw materials, 16-stage control of products.
The company buys the best raw materials from the largest manufacturers - Basf, Dow, Venator. All products are approved by the Association of Allergists of Ukraine, received the Living Planet ecolabel.
The site contains more than 50000 shades, developed by the world giant paintwork materials Tikkurila Group, the system of tones corresponds to the international RAL and NCS palettes. When choosing, you can use the help of a consultant or a convenient online service.
Kolorit paints and varnishes - premium solutions, allowing you to create a dream interior in your home or office. The company not only follows interior fashion, but also actively forms it. Join and stay on top of trends!
Liked the article? Easily share your bookmark with your friends, social. networks: