The façade décor of the Leptonika brand is a combination of "ageless classics" and modern trends. The collection is distinguished by its style, strength and durability of materials. The entire range of products is created for customers, those who want to transform the appearance of their home or cottage. The brand is very popular, and successfully competes with other brands in the industry.
Previously, buildings and structures were decorated façade stucco décor from gypsum, stone or concrete. These are extremely expensive and heavy materials, requiring high costs for installation and further maintenance. Today, there are more affordable and easy-to-install solutions, not inferior to the "old school" aesthetically. To distinguish your building from many of the same type of buildings, owners resort to its decoration with Leptonika stucco work.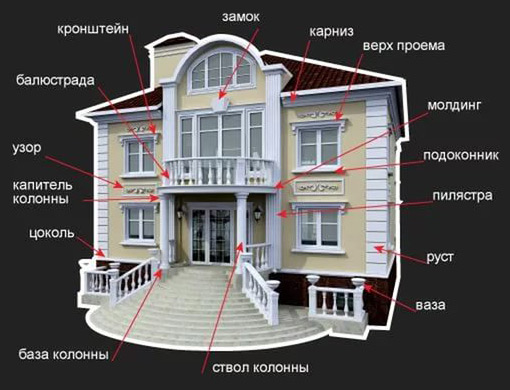 The basis of the product is a profile of expanded polystyrene PSB-S-25. It is coated with a protective coating, consisting of mineral fillers, marble chips, quartz sand and acrylic binder. It completely repeats the surface of stone, does not contain harmful substances, has high resistance to frost and heat. Withstands temperature changes from -35 °С to 60 °C.
The range of façade décor includes:
Cornices – protruding finishing elements.
Moldings – used for framing (doors, windows, etc.).
Linings – for quick insulation of the outer surface of the building.
Keystones – designed for the expressiveness of the facade.
Columns - bring symbolism to the building, etc..
The entire Leptonika collection includes more than 100 various decorative elements for different purposes. Products are manufactured according to catalogs, and by individual order.
Production of decorative elements
Products are made of PSB-S-25 with the application of a protective coating with a thickness 2-2,5 mm. The production process takes place on special automatic equipment. To begin with, the product is given a shape, after which a special reinforcing coating is applied to the resulting part. High precision manufacturing of products on machine tools ensures perfectly accurate joining of parts in the future.
The use of expanded polystyrene in the composition of products is due to a large number of positive aspects: low labor costs for installation, Light weight and adjustable on site. Compared to other materials, it is easy to transport. At the same time, façade stucco does not lose its qualitative and aesthetic properties throughout the entire service life.. You can give the décor a complete monolithic look by sealing all the seams and adjacencies with the restoration mixture "Darmix", repeating the texture and composition of the protective coating of the decor.
You can study the available range on the website. Here, each buyer will choose the perfect solution for himself.
Liked the article? Easily share your bookmark with your friends, social. networks: