Modern style, which in the end 19 – early 20 century replaced the eclecticism. The main idea is the integrity and content of the form, as well as a complex range of a large number of shades.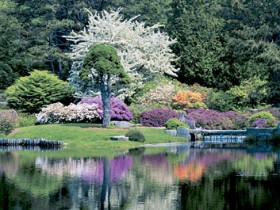 As for plants, which should be carefully selected for a garden plot in modern style, they should not be much and, moreover, accommodation must be very thoughtful. The flora of this garden plays a dominant role, because it creates the comfort and pleasure during relaxation. Understand, what plants need to decorate the "modernist" garden.
Trees for garden in modern style
For this style of garden you need to choose trees with unusual crown shape, bright color of leaves, original drawing of the branches. You need to place them along the contours of the garden, groups, in order not to clutter up all available space. It is recommended to select trees, which are familiar to decorate areas (for our conditions this weeping willow, birch, ash, Linden). It is also very effectively to fit in with the overall composition of a pyramidal poplar, cypresses and arborvitae, which will give the garden sophistication. Not prohibited ornamental pruning (the main thing, that the crown was succinct and smooth).
Flowers and shrubs for the modern style in the garden
As for the bushes, popular for garden in modern style are considered climbing roses, hydrangeas and rhododendrons. Very elegant looks white, blue and lilac iris. Often modernist garden decorated with lilies, daffodils, hollyhock and Phlox, that harmoniously blend with the lawn. Colors of shrubs and flowers can be very diverse, the main thing, what would the plants were planted by the groups, and did not contradict each other.
Climbing plants in modernity
The leader among the vines of the garden in art Nouveau style are the creeper. They are well integrated into the composition and give it smooth lines. Among other suitable climbing plants emit:
Hops
Ivy
Parthenocissus
Morning glory
Clematis
Sweet peas

The beds in the art Nouveau style
Garden in modern style is not acceptable to fruit trees or vegetable beds, but does not prohibit the cultivation of medicinal, spicy and culinary plants. Among them: Melissa, Basil, curly parsley, ornamental Kale, mint, salad etc.
Aromatic plants
Very welcome in the garden of the art Nouveau style aromatic plants. That's just the right need thus, that they do not annoy others like you. Sweet sugary smell will provide fragrant tobacco and Jasmine, tart – lavender, saffron and Basil.
Liked the article? Easily share your bookmark with your friends, social. networks: