To make your garden area more creative and unique is the dream of every gardener. Track, which allow you to stroll through the garden, needs to be not only convenient, but unusually decorated, the whole area gave the impression of. Today we will talk about, how to make difficult, but at the same time unusual herbal garden paths with his hands.
Herbal garden paths in the country
This type garden paths is an unusual "green paths", created from a special low-growing herbs, able to withstand the mechanical load in the form of trampling, in this case, without changing your appearance.Of course, the complexity of caring for the herbal garden paths is very large and requires specific knowledge of fertilizer and mowing, so most gardeners ignore this idea.
The main advantages of herbal paths are:
Sustainability tracks. That would not say manufacturers paving and other synthetic materials for paving, all these materials over time degrade soil fertility, because. rainwater washes out of them all kinds of alkali, which saturate the soil. Grass paths are environmentally friendly and Vice versa, significantly increase the fertility of the soil.
In the garden, equipped with grass tracks, temperature below 2-3 degrees, what's good in the summer.
Herbal track will become a good decorative element of landscape design, giving the garden to transform into a green area, which will complement infinity garden style or even country style.
Lovers walk barefoot on the cool green grass of this type of track will be most appropriate.
As for disadvantages of herbal paths, they also have a considerable weight, so I advise you to read them:
The complexity of creating herbal tracks (it is necessary to carry out the laborious preparatory work, and know the basics of gardening).
Create grass paths requires significant material costs for the purchase of special herbs, fertilizers, and also, if necessary, to pay for the help of experts.
Walking along the path in the morning or after a rain will not be comfortable, because. the grass will be wet.
The time from the beginning of preparatory work before that time, when it will be possible to walk on the green grass, is more than six months.
If you don't exercise care paths, for a short period of time they will stop to decorate the garden (overgrown, wither, etc.)
As you can see, the advantages and disadvantages of herbal garden paths are significant, it is therefore safe to say, the creation and care of this type of tracks would be only a real green thumb, who has time for daily work in the garden! We now turn to the technology of creating a herbal garden paths with his hands.
The technology of creating a herbal garden paths with his hands
For easy understanding of all the information, it is necessary to divide the whole process into several main stages, namely: buy special herbs, soil preparation, leveling of the ground, sowing seeds and caring for carpet. Consider everything in order.
Buy special herbs. As mentioned earlier, grass should have a good resistance to trampling (to be rigid and undersized). It is better to choose a special sporty look lawn or seed mixture, which is designed to playgrounds. Specialized stores have a wide range of mixtures of seeds, which include plants such as field and meadow fescue, Kentucky bluegrass, Rigas pasture etc. That would further the herbal path had a higher resistance to trampling, it is recommended to increase the recommended rate of seeding (it is listed on the pack: g/m2) in half.
Soil preparation. It should be noted, what soil preparation must be carried out in the autumn. To start mark out the boundaries of future tracks, this can be done, using wooden pegs and rope. Next, the entire marked area on perekidyvaem 20 cm deep (bayonet spade). If there are weeds, they must be cast aside. Then dug over the area and pour a small layer of compost, which will serve as a good fertilizer. The thickness of the compost should be at least 4 cm. Please note that, what lawn grass refers to grass plants, who are not able to develop under the influence of herbicides, therefore, removal of weeds is not necessary to use these chemicals. After preparing the soil it is necessary to suspend the work until next spring, with the arrival of which go to level of the soil.
So, spring has come, we begin leveling the ground. What would make a perfectly smooth track, it is necessary to pour the ground level. For ease of use again the wooden stakes. This time they need to drive not only the contours of the track, but in the middle of it. First check, what would the pegs were the same height above the ground, to do this they put a flat Board and measure the levelness of the building level. If everything is in order, the level of the pegs fall asleep the ground and stamped it special roller, which you can easily do with their hands. Leveling of the ground completed, start sowing seeds.
To sow the seeds you need to carefully, by adhering to a few basic nuances, we'll tell you now. What would grass evenly covered the entire surface of the track, you need to first mix the seed with sand (it needs to be clean and dry). Then, using a garden rake to create a shallow strip (from 1 to 2 cm) in which sleep mix seeds with sand. Well, in the end, the holes with the seeds carefully roll the roller.
Care track. Care pathway is a complex process, which requires the following, basic rules:
Over the grass track, which is just beginning to grow, you must use atomizer. It is forbidden to water the grass with water from a hose without a nozzle, because. a strong current will damage the uniform dispersal of seeds, knocking them together and blurring off the track.
It is strictly forbidden to walk on only sown the track. The first walk can be done in late summer, if the preparatory work was carried out in the autumn.
Herbal carpet requires special care which consists in aerating, abundant watering, feeding and grooming.
How to make herbal-in for the machine?
Herbal path to exclusively serve for walking, therefore, the increased mechanical loads, such as transportation of building materials in a wheelbarrow or race cars are not allowed.
If you are interested in this kind of coverage, in order to make a more robust grass carpet with their hands, it is necessary to produce additional outputs, which we'll tell you now.
So, to provide additional protection herbal-in for the machine, you must use a special grass paver, which increases resistance to mechanical stress on the grass.
Of course, that the preparation of soil in such event fatal change. First we need to remove the marked areas of the layer of soil to a depth of about 60 cm. The bottom of the resulting trench must be thoroughly compacted and fill it 40 cm of gravel, which fill the following, 10-inch layer of gravel, or even expanded clay. On top of expanded clay fall asleep last layer, which is a fertile soil.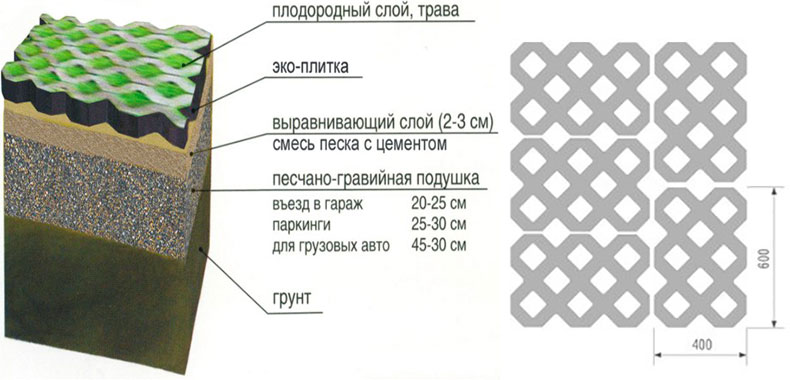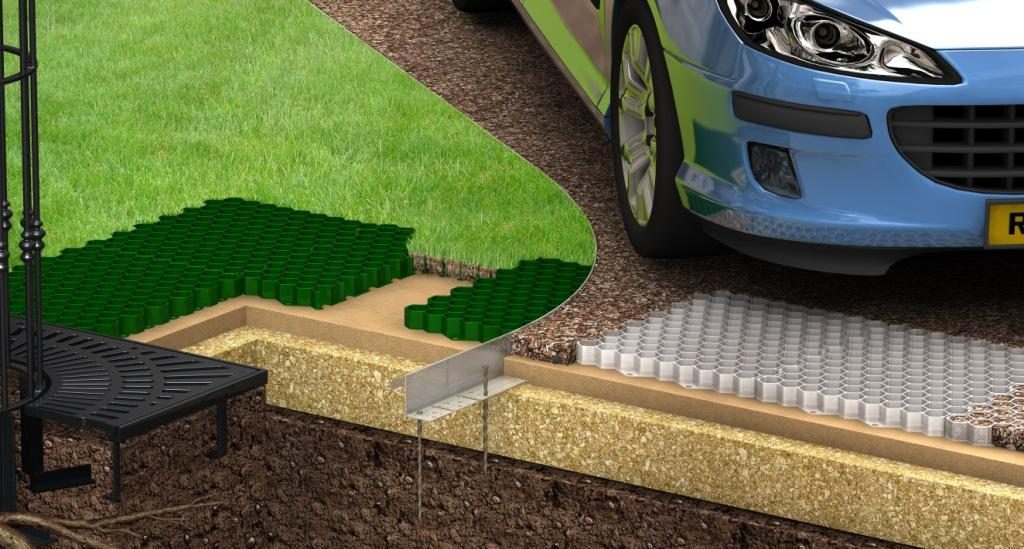 On top of the soil put our extra protection plastic grass paver, in the cell where you fall asleep again fertile soil (not cosipa 5 mm to top of cell). In the remaining space sown lawn grass, then wait, while herb will grow in.
Alternatively, plastic grass grid, you can use eco tile, for heavy machines.
That's all, herbal check for machine ready, do not forget to care for it, luxury gardening area, you are guaranteed.
It should also be noted, what herbal garden paths can be combined with natural stone or even concrete slabs. To this end, during preparation of soil stacked flat stones in a checkerboard pattern, and then the grass is growing. In this case, you can sow more beautiful low-growing plants, who are not able to withstand the mechanical loads, the main thing is to step only on the stones. The idea is very good and looks more harmonious, namely, as, in the photo examples shown below:
Liked? So proceed to create handwritten grass tracks in the country with their hands, plus herbal check in machines at his dacha!
Liked the article? Easily share your bookmark with your friends, social. networks: