The presence of birds in our garden not only ensures natural music in the form of tweets, but reliable protection for garden plants from pests. So you need to feed these feathered friends all year round and make for the accommodation in the form of birdhouses and feeders for birds, then your garden will be nothing to threaten.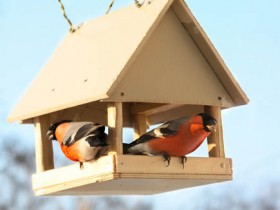 Feeders and birdhouses for birds very nicely complement the infield, making it more comfortable . Easiest to buy a bird feeder or birdhouse in a specialty store, but there is an option, that both will not fit into your garden decor. So why not do everything with your hands? Then you are waiting for 23 photo examples of birdhouses and 20 photo ideas bird feeders, which you can with your hands, if you try. Else to help attached a photo of birdhouses and birdfeeders with drawings and diagrams, 3 video instructions, with step by step actions and explanations. See so-same our category houses for animals and birds in the garden.
A bird feeder
The feeder helps birds survive the difficult times (for example, winter, when the daylight hours are shorter, and food available less). Material for the trough could be anything: tree, plastic, plywood, handy tools (headlight from the car, package from-under juice, pumpkin, plastic bottle) etc. Much more important to have imagination and creative thinking, to help you in creating the trough with their Golden hands.
How to make a wooden bird feeder with your own hands?
For this you need a Board or waterproof plywood, size: length 2 m, width 20 cm, thickness 15-20 mm. Also required drawing the trough with a detailed proportions, we will cut all the necessary ingredients feeders.
So, drew the bird feeder, cut out the Board the necessary parts, now combine them together. This can be done with screws or glue. Do not forget to paste in the trough plexiglass, which will allow you to control the amount of feed. In order to mount the Plexiglas in the side walls, need these walls to cut holes deep 4 mm (this is done using a milling machine). If no milling machine, you can use screws to attach side panels of Plexiglas to the side walls. There is a variant of trough without the use of Plexiglas, but then you have daily to put food.
It is also desirable, what would the trough was a perch for the birds, which can be easily integrated in the bumpers (to do this, do the sides of the hole, diameter 10 mm).
When the feeder is ready, be sure to open it with varnish or linseed oil and install on a tree or post. In the already installed feeder should be made to cover food, for example, this bird feeder, this is done through the top. Pour food should be within a week after full-fill (but if the feeder is willing to use, do it more often, especially in the winter, when I go to get more complicated).
The video below shows how to make a bird feeder from wood oak.
Other options create a trough
The manger of car lights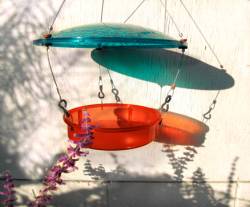 Creative feeder for birds from the car lights is not only convenient to use birds, but also a stylish decoration in your garden. Materials, you will need:
Car headlight,
A few S-shaped hooks,
Stainless steel cable,
Rubber washers.
For starters Polish the components of the headlight, next, make a small hole for the cable and hooks. As soon as I fix the tray feeders, go to the upper cover, which will protect the feed from rain. Noise-hole cable, fix the cover with washers and you are ready to use feeder!
Manger from a cardboard box
Here everything is quite simple. Find a suitable cardboard box, which will serve as the original bird feeder, cut a hole in it in order, what would the bird was able without problems to climb, reinforce the bottom with cardboard and hung the finished product on the tree. This feeder can be creatively decorate to match garden decor!
The manger of pumpkin (edible)
Original winter decoration for your garden, will be pumpkin feeder birds. To build it you need to cut the pumpkin in two holes, remove the pulp and insert into the bottom of the pumpkin small plate. A rope connecting the tail of the pumpkin and hung it on a branch, as shown in the photo above.
Hanging edible bird feeders
Here's a trough of beans, as pictured above, sure would be fun to decorate infield. All you need is wire, molds and different treats for the birds (fat, nuts, dried fruits, seeds). First prepare the mold, which will create a kind delicacy. Best suited plastic Cup yogurt. Next melt the fat, add to it a variety of Goodies and pour the mixture in molds. Don't forget to insert the center wire or rope ,which in the future will be suspended feeder. When things cool off, freeze edible bird feeder and hung in the garden.
Bird feeders from plastic bottles
I think there don't need to explain, the principle of creating the same, as the feeder from a cardboard box. Bright photo examples will push you to different creative approaches to making plastic bird feeders.
More 20 photo ideas design birdfeeder with their hands:
Where to install the bird feeder?
What would you have created the trough enjoyed popularity among birds, it should be kept in a secure location. Birds are very shy and hardly venture to use the feeder, located in an open area. Therefore, it is better to install a bird feeder in the trees, near the bushes and at a decent height, what would the hunters on the birds (in our case, cats) not got to them.
What to put in the bird feeder?
In addition to the crumbs from the table, which often feed the birds, you can also spoil you with different delicacies, which will be discussed. Woodpeckers and titmouse can't resist the taste of bacon, therefore, this food will lure them explicitly. Good food can be fruit plants: Rowan, viburnum, sea buckthorn. Grain by itself will amuse any kind of birds, but if you don't feel sorry for feathered friends money – specialized bird food for them and delicious and healthy. From scrap feed birds perfect sunflower seeds, pumpkin seeds, buckwheat, pshonka, cereal.
How to create a birdhouse for the birds with their hands?
The technology of creating a birdhouse for the birds is a little different from the above proposed technology of the trough with their hands. So check with the establishment feeders for garden birds during the winter period and will review these 2 valuable video lesson.
23 the original idea of creating a birdhouse with his own hands
That would make a unique birdhouse do not require large material investments. Only need to have a little fantasy and a little bit improvised. The charge below 23 photos definitely prove it.
Liked the article? Easily share your bookmark with your friends, social. networks: