Once you have built your cottage, there is a need to fence her from enemies and prying eyes by a fence. And that after the erection of high brick fence, for which you definitely will not be seen, you begin to observe, that around the yard, striking only a huge dark fence. And even after you will decorate the garden with various decorations, the fence still won't fit into the overall composition. And what to do? This is a subsection of landscape design, how to decorating garden fences. We already wrote about
compare different types of fences with pictures and examples of wooden fences, brick, natural stone and metal
. We discussed earlier the types and
the options of creating fences hedges of trees and shrubs, and so the same rules of maintenance
and
how to make your own concrete fence
– check it out.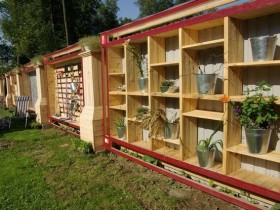 4 easy way, how to make your dark garden fence, a small work of art. 36 photo ideas creative decoration garden fence, decoration fence improvised, which are in each cottage, or country house, in the garden – waiting for you. The World is full of creative ideas!
Garden fence, country fence part of any gardening area. The process of decorating garden fence (in simple words – the fence), very easy and accessible. All you need is a little imagination and of the surrounding means. So let's consider some ways of decorating the fence for various design decisions and fences of hedges – shrubs and large trees.
Method # 1 is to Disguise the fence climbing plants.
Probably, one of the easiest ways of disguising the fence – with the help of plants. There are annual and perennial climbing plants. To annual plants is curly beans, morning glory, sweet peas. To the long – parthenocissus, climbing rose, clematis. With regard to annual plants, they are able to asiatica themselves and grow very quickly. Not as fast growing perennial plants and in addition they need to make special supports, but they look much more impressive. In the end a fence, disguised climbing plants cease to look dull and easily poured into any garden decor.
Method # 2 – the Planting near the fence of ornamental shrubs
Another simple way to decorate a garden fence to land beside him ornamental shrubs. With this task perfectly cope barberry, briar, lilac, Japanese quince. You can also alternate between a plant, more decorating garden fence flowers and bushes.
Method # 3 – an Optical illusion in decoration fence
This decoration garden fence will make you forget, behind. To make an optical illusion you need to have enough creative thinking. For example, if you cover the fence with old bricks, landed in the crevice of the masonry moss will effect the old fence, while the remainder of the fence to make a wild stone, installing it in the artificial stream, slowly running down. Well, isn't that an optical illusion?
Method # 4 – Creative decoration fence improvised
This option fence decoration are clearly different from the previous ones, all the disadvantages of not hiding (as we used to do), but on the contrary highlights. More like madness, but it looks very impressive. Decorate a wall with colored glass, shells, wood cuts and stones.
The result decoration garden fence
After viewing all these ways of decorating the fence, I think, some of the ideas you have in mind. What would you come up with, know, your fence will definitely be unique and clearly better, than just a brick wall. So get inspiration and start own design of your garden fence!
36 Photo ideas for decorating fence improvised, their hands
On Earth is full of creative people, which are very originally decorated my fence in the country, made a fence improvised around a country house. 36 photos to your attention, which use and visual illusion:
Liked the article? Easily share your bookmark with your friends, social. networks: