One of the most popular small architectural forms for a suburban area is a gazebo. About, as to build a gazebo their hands we said, and that, how to decorate it or even create in a certain style, complementing the overall garden decor, now we can talk.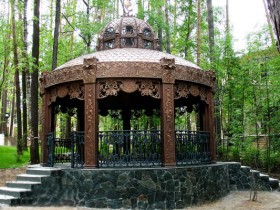 Gazebos can be quite a variety of shapes and made from any suitable materials, the main thing, the design was robust and durable. Today popular are pergolas wood, polycarbonate, metal and combination options. To begin, consider the basic design options pergolas, why use visual picture examples.
Outdoor gazebos
This type of gazebos is a support, on which is erected the roof. Walls have open pavilions no, there is a table and benches. The purpose of this construction – holidays in the hot season with a sense of free space under the influence of weak wind. The lack of outdoor gazebo that, it is not possible to enjoy a holiday in the cold season, and also during heavy rain.
Closed Bowers
These type of gazebos is something in-between pergolas and garden houses. Unlike outdoor gazebos these buildings have walls, which can be either of the boards, and mesh, polycarbonate etc. If you build a closed pergola with a heater or hearth, then it is possible to sit even during cold weather, enjoy with a Cup of coffee or something stronger.
Gazebo-barbecue
This gazebo was borrowed from European neighbors, who like to spend a summer cottage on the BBQ with grilled meat on weekends. BBQ oven can not only function as a building for cooking, but to complement the design of garden and gazebo. We offer the most unique and attractive types of gazebos with BBQ:
Gazebos from plants
Another original embodiment of the arbor is its creation of climbing plants. The so-called "living gazebo" 100% will attract the attention of guests, originally complete landscape garden design and will allow you to comfortably relax at the cottage. To create a living gazebo it is recommended to use such shrubs and plants, as: grapes, ivy, hops, dogwood, Linden, honeysuckle etc.
Styles of gazebos for the garden
In addition to the embodiments of the gazebo there is also an option of her style. The most popular are those styles, as:
Village
Classic
East
Modern
Forest
Look at the photo examples of the design of pavilions of various styles, which, of course, push you on the handwritten design of your gazebo with a unique twist.
Rustic style
Rustic style is a gazebo in country style using, basically, wood. The construction can be with frame, boards, in the Ukrainian hut, Forester house, etc. It is hard to explain, what is rustic style gazebo, so we give you a clear photo examples:
Classic style
The classic style of the gazebo you can see in every second country site. The main indicator of a classic gazebo quadrangular or hexagonal base and shape of the buildings. Classic gazebo it is recommended to make from wood, sewing up wall polished boards, covered with varnish or paint. Looks classic style in any garden.
Oriental style
Oriental style gazebo is unique in its appearance. In contrast to the classical gazebo, which is developed in compliance with the rigor and symmetry, Oriental gazebo is a building with a domed roof, the supports which are made of stone, wood or glass.
Another difference between the Oriental arbor – its layout, because. the gazebo has an outer and inner area.
Modern style
Today considered a good option to construct a gazebo in a contemporary style, which is represented as a combination of different innovative materials, established in minimalism either modern.
Forest style
This style of gazebo is the most attractive and mysterious. The gazebo is a fabulous house, who succumbed to the influence of fantasy owners. Forest gazebo necessarily made of wood, mostly with frame.
Having seen these photo examples, we hope, you've also got the inspiration for the decoration of the gazebo with their hands. Wish you more creative ideas and recommended reading an article about, how to make summer kitchen their hands!
Liked the article? Easily share your bookmark with your friends, social. networks: