Don't know, how the material is to lay out garden paths, what would it be nice, original and safe? Recent masters of landscape design are increasingly paying attention to rubber tiles.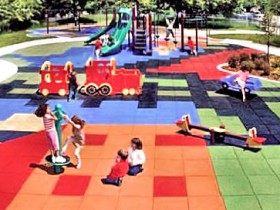 Rubber coating substantially predominates over concrete ties and classic paving coating. High quality material, of which is rubber tile, very strong and durable. So if you can't choose the right material for your garden path, consider the option of rubber tiles, its benefits read below.
The advantages of rubber flooring
The main advantages of rubber coatings garden paths is:
Easy Assembly/dismantling
Strength
All season
A variety of shapes and color shades
Aesthetic appearance
Excellent drainage properties
Easy transportation
The durability of the
High sound-proof characteristics
Where can I use rubber tiles?
Rubber coating is good because, they can be laid not only for garden paths, but:
Playgrounds at the schools, kindergartens
The deck of the yacht, piers, pools
Gardening area, places-in machines, garages
Sidewalks
Anyway, rubber tiles can be used anywhere, do not damage the environment. All because, what is the raw material, from where her make – crumb rubber. Itself rubber crumb is produced after the recycling of car tires, so don't worry about the strength and durability of rubber tiles, because tires are made from quality natural and synthetic rubber, fillers and moisturising oils. Also positive is the fact, making a unique rubber tiles solves the problem of disposal of "end" tires.
Manufacturing rubber coating – exploding the myths.
First let's deal with the, what are the stages in the production of rubber tiles.
Stage 1 – Preparatory
At this stage of automobile tires is crumb rubber. To start with Shin retrieved the metal side rings. Next, using mechanical grinding of tires formed of rubber crumb of various fractions (from 1 to 4 mm). It is worth noting, mechanical processing involves the application of cryogenic technologies.
Stage 2 – Preparation of a mixture of
After, how to get rubber crumb, there was added the polyurethane binders and various pigments (to create the necessary color tones of the tiles) and all mixed in a special mixer.
Stage 3 – Pressing
The last step in the creation of rubber tiles extrusion of the finished mixture. For this purpose, vulcanizing press. With regard to extrusion technology, at the moment there is two of them: cold and hot pressing (in this regard, and there are a few myths about, what tile is best).
Myths about hot and cold technology of production of rubber tiles
Myth # 1
The quality of the tile, made in the process of cold forming significantly better, than in the same hot forming.
This myth has been dispelled time, because. company, manufacture tiles both methods, still using and hot and cold forming, which are popular on an equal level.
Myth # 2
Myth caused by the term "cold forming". As it turned out, it is not already cold, rather just a relatively cold. When hot forming is used temperature of 140°C for 15 minutes, and when cold – 80°C for 4 hours. And that in that case the quality of the tile remains unchanged, as well as the overall look and form.
Myth # 3
This myth about, when cold forming the cost of electricity is much less. Same as the previous myths, this myth has been refuted, because. both methods spend approximately equal amounts of power. The only difference is in the fact, when hot forming is used a cycle for the press, and when cold forming is required constant temperature in the oven.
As for the differences between hot and cold forming technology of rubber tiles, we can say, what:
The cost of the tile production by hot forming in 4 times cheaper, than with cold
To expand tile production hot pressing is only necessary to add new presses or molds
The main plus tile cold forming – high performance.
How to lay rubber tiles with their hands?
In order to create a trail of rubber coating there is no need for special tools and careful preparation of the area! All you need is a little bit to level the surface and put on the bottom of the concrete screed. If the tile has a thickness of 30 mm and more, she can go on absolutely any surface. You need to put her joint to joint and for additional fixing to use polyurethane glue. Well, to go with the rubber coating it is recommended a day later.
How to care for rubber flooring, walkways?
Another significant advantage of rubber tiles is, it, she is very easy to care for! No need to use expensive detergents for cleaning tiles, if you need it just to clean – use a hose with plain water. So the same tile can be cleaned with a brush or sweep away all debris with a broom and even a vacuum cleaner. In winter it is advisable to clean the snow on tile, wooden or plastic shovels. Does not prevent the use of snow plows.
You have to understand, what is the guarantee of security and ease in the care of a tile depends only on the correctness of its installation, so before you carry out laying rubber tiles, please see this video:
As you can see, rubber tiles can be laid not only in the yard, but indoors. And even if you are not impressed with the rubber coating, you can always use paving tile, which is easily done their hands!
Liked the article? Easily share your bookmark with your friends, social. networks: