You remember, as a child often visited the grandparents in town for the summer? These times will remain in our memory forever. Now everything has changed, actually as landscaping of the garden areas. And that would somehow remind ourselves about the old days, many owners create a garden in country style, which we now discuss.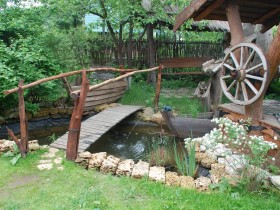 Country style (rustic style) is a composition, which reminds us of the rural garden. The simplicity of creating and caring for this garden will be under force even to the beginner in landscape design. The main thing, the whole composition looked "old" and brought home only pleasant experience during your vacation. That would be in country garden was attended harmony, it is necessary to know some nuances of its creation, so we proceed to their consideration.
What is the decoration of the house will be combined with country style?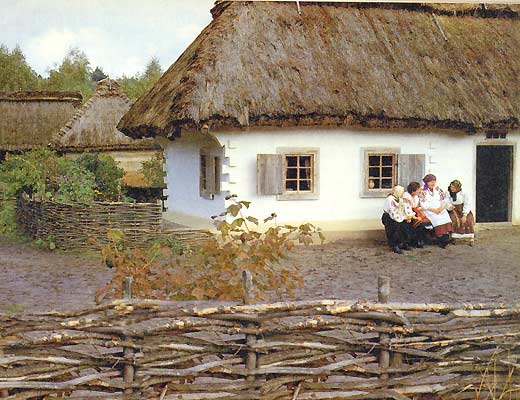 The décor of the home greatly affects the overall composition of the garden plot. Because. village style need simplicity of all the decorative elements, in any case, the house should not be faced with a glass facade or siding. Where in the village you might have come across this design? That's it, nowhere. So it's best to sheathe the house with wood or wood in General (for example, with frame). Also matches perfectly with country-style wattle and daub hut, which you can create by using white plaster (just do not make the wall perfectly smooth, on the contrary, specifically distort their, do slightly convex). Optionally, brick, stone, or brick, just the color was natural. In General, when you create veneer, remember the old style and General view of the house slightly straite.
Fencing for the garden in country style
It's very simple. There are two options for fencing the farm house is either a fence, either simple fence fence. These types of fence, of course, complement the whole composition and make the garden even brighter and cozier. They also can hang colorful pots, as decoration. But if the fence is already built, and it is a fence in the style of hi-tech (from metal sheets or concrete) it is possible inside the garden, decorate it with hedges. No need to use exotic plants, such as: juniper, cypress, thuja. Better remember, that was my grandmother in the garden, and this is certainly lilac, Rowan or wild cherry. Also it would be nice to plant near the fence elderberry, which discourages flies from your garden.
As for gates for fences, the best option would be a wooden gate, which will cut out some ornament. The metal gate will fit into the design, but if it's a little to "wear out".
Garden paths for a cottage garden
Just like all other decor elements, garden paths should not be made from an innovative popular material (artificial stone, rubber tile, garden flooring etc.). It is best to use wooden chocks, Sandstone and cobbles. You can also lay the tiles in the simplest geometry, which advance better to break at the edges. As for laying track, it is necessary to pave the material fragments, leaving gaps for the lawn or mixtures of herbs. The main track should be wide and smooth, decorated fruit trees or flowers, which we will discuss later. As for the additional tracks, they should be winding and narrow (remember the walkway from the house to the barn).
Plants in country garden
Garden plants, country style play a dominant role in the whole composition. The main thing, as I said, do not acquire expensive exotic plants, they will only spoil the whole picture. If for a moment to come back thoughts in grandmother's garden, in memory come Mac, peonies, dahlias and sweet peas. Here they put! But do not forget about that, country garden is not only a decoration of the site, but also gives us a lot of vitamins. Therefore, there must be fruit trees, such as: cherry, cherry, Apple, drain etc. Not interfere with the same squash and watermelons, their powerful whips wrap around trees and fences. "Highlight" the village garden will serve as a peek-a-Boo from behind the fence sunflower. Do not forget also about berry bushes, who are sponsoring us with vitamins and adorn the garden area. Such plants include rose hips, raspberries and gooseberries.
With regard to the placement of all plants on the territory of the village of garden, it's worth paying attention to, there should be strict separations between colors, trees and vegetables. They should all be placed randomly in the garden, but to create the kind of neat and exciting plot.
Small architectural forms of the area in country style
Everything here is also very simple, in any case don't need different cupids, gnomes, frogs and decorative fountains. It's rustic garden! It is better to decorate the whole garden plot all kinds of agricultural facilities and equipment. It will look spectacular abandoned in the middle of the garden cart, which is overgrown with moss and flowers. As "highlight", which will clearly attract the attention of guests and will delight your eyes, will be Russian well. He may not fulfill its intended purpose, and just to serve as a decor element, moreover, to make such adaptation is not difficult with your hands. Don't forget about feeders and birdbaths, after all, feathered friends will fill a country garden with natural tunes. What would your house was visited by storks, pitch on the roof of an old car wheel. Among other small architectural forms of the village garden, it is possible to allocate:
Wicker rocking chair,
Old forgotten shoes, that already grow flowers,
Stuffed,
Broken pot, also overgrown with flowers.
Liked the article? Easily share your bookmark with your friends, social. networks: