When the garden is almost complete and ready, that it will rest, sometimes it creates the impression of incompleteness of the composition. It seems to be a gazebo there, and lighting installed, and fountain works, but still something is missing. That "something" is garden figures. Their merit is, they make the garden fabulous, cozy and add positive energy. And even more, if such figures are made with their own hands, while not exactly will have questions about, what else to decorate infield.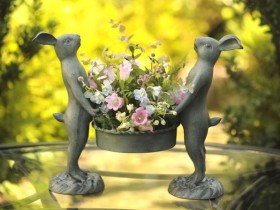 To create garden figures with their hands do not need substantial financial investments. Only need a stock of creative ideas, a little skillful hands and free time. About, how and what can be done garden figures and will this article, so let's get down to business and view photo ideas!
What you need to know before choosing figures for your garden?
The first thing you need to understand, the decoration gardening area with garden figures – a serious and sometimes even requiring the help of experts. That would be all the elements of the garden decor in harmony with the figures, need to know, where and how to arrange them, what form and style to choose. Because if in an informal garden to instruct sculptures of the Eastern culture or the statue of Venus, it will look out of place and make the whole song pointless.
As for the General style of the garden, it's a good idea to do garden figures in the form of surprises and logical conclusion of the whole walk. If the garden is made in a romantic setting, will not interfere with the amours, if the garden made in the style of the country – German dwarfs will be the perfect addition.
It is important to understand, in the formal garden space for sculptures and figurines, in principle, defined, but informal garden is good, what to use their imagination. Especially if you decide to make garden figures with their hands, you can choose the style and design of the figures, and this means less problem!
Garden figures in the landscape design site
Of course, that garden figures play the role of decoration of the garden, making it fabulous and unique, but with proper use of different designer stuff, not only can decorate the area with figures, but lighting it, use as a stand for your various decorative plants, as the bird feeder, etc. Because. dimensions, the shape and design of the figures is different, you can create a decorative garden, to a large extent with the help of garden figurines. The main thing that you should remember in any case do not go too far with the number and variety of garden figurines, because not only can decorate the garden, but to make it even worse and more absurd!
What material to choose garden figurine?
To date material, from which to create garden figurines, can be quite varied. Popular are: tree, plastic, stone, granite, ceramics, gypsum etc. The question: "What material is better?"it is impossible to fully answer, because every material has its pros and cons. The best option, according to experts, can be considered Polyresin. Furnace – new in a series of artificial materials, which is a stone, created from a mixture of acrylic resin, aluminium hydroxide and various pigments. His merit is, he is not afraid of high and low temperature, durable, copes with different weather conditions, cannot be deformed and relatively expensive. Therefore, garden figures, made of Polyresin is, what is needed for our climate!
How to make garden figures with their hands?
That would make garden figures with their hands need, as already mentioned, a little patience, imagination and your own time. The simplest material for garden figurines – wood. Only a nuisance in its durability, although if you carefully craft figurine made with special tools, it lasts a long time and glory! Also good material for create figurines – foam or plaster. This material is easy to cut and create any appropriate form. The first time, of course, may or may not work, but with care from 3-4th attempt you will definitely get a nice figure. Easy to make fairy-tale hero – bun. To do this, take plastic ball, fill it with foam, with a knife shape the face and decorate it with paints. Just? But such ideas easy creation of figures of several thousands of darkness.
The confrontation between "Western" gnome and domestic "Scarecrow". How to make classic figures with their hands?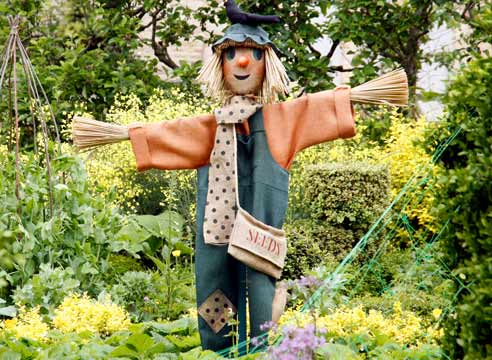 Let's start with the usual for all garden figures – German dwarf. Its popularity the participants of the Scandinavian and Germanic mythology gained from the beginning 19 century, then began one of the tradable export goods in Germany. The gray-bearded dwarf is the patron Saint of the garden. Considered, the plant, near which is the gnome, grow better, yields more fruit and is not subject to loss. The shelves of many stores, specializing in the care of a garden, filled with bright garden gnomes, but why not make this gnome personally? To make such a figure is no easy task. If the material, from which you want to make a dwarf tree, you must be able to work on wood, if the plaster or foam, respectively, a small skills of working with plaster/foam. But still, if the effort more than lack of confidence, good gray-bearded dwarf must succeed! The same gnomes not only can decorate the garden, but to cover it. When creating figures, make a hole for the led lamp and then at night you can enjoy your creation!
As for the domestic replacements dwarfs, it, of course, Scarecrow. Make it ten times easier, than gnome, after all, all you need is a frame and clothes. As a skeleton you can use a wooden pole, to which is nailed a conventional head and hands. The "skeleton" of the Scarecrow is driven in the ground, that would not be carried by wind. Next to him wears old clothing and hat (or solitaire). Ready to "snag" for the birds not only decorate your garden, but also to scare away birds pests of the crop. If you do not want to do a Scarecrow with his hands, many such garden figures is on the shelves of the store, that's just called going to be strange – "garden doll".
Original design ideas of garden figurines as 47 photo examples
The creation of the garden figurines with their hands very often turns into a hobby, because. knowing, you are the designer of your personal garden, a very exciting experience. Even if you can't work with wood, the plaster and foam, you can always just decorate the stones and it will also be impressive to look. In General, on 47 photo examples you will see. Inspiration to you and more bright colors in everyday life!
Liked the article? Easily share your bookmark with your friends, social. networks: