Almost every home has a staircase with steps. Not necessarily high, it can be a step on the porch or at the entrance to the house. To make it comfortable and safe to step on them, to increase the service life of stairs, it is necessary to impose ceramic tiles.
The process of laying ceramic tiles on steps what is almost like laying on a horizontal surface, that is on the floor. But to do this correctly and efficiently, need to know a few important points.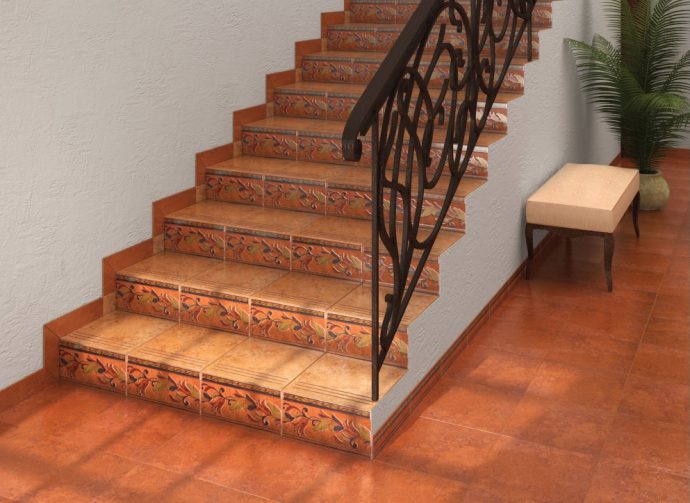 Where to start laying?
Before starting, we should prepare material of:
- Ceramic tile,
- Special tile adhesive.
The tile can choose according to your, individual taste. But practice shows, what is best to use a clinker. This tile is with high performance, that can withstand different loads and mechanical impact. It is also important, that it is not slippery, and guarantees a comfortable walk. Clinker coating protects the tile from fading and will preserve the appearance for decades. This is one of the most popular materials for finishing with a large selection of colors.
Getting Started - Useful Tips for Beginners
You need to take into account the fact, what work needs to be done in one day. Before, to prepare the surface: clean the dust, roughness, cracks and potholes. You need to handle primer mixture for better adhesion of tiles to the surface. If you are going to lay ceramic steps on the porch or in the yard, don't forget about the small inclination 1-2 degrees to stack water.
Check all the tiles for size and defects (it's certainly better to do when buying). Lay tile on the surface, you need to choose a styling direction. Prepare the tile adhesive strictly on prescription.
To begin installation of masonry with horizontal and move from the top to the bottom. For a stronger adhesion to wet concrete. Using a trowel with teeth, the adhesive mixture is applied evenly.
You need to avoid cavities with air under the tile. Apply the adhesive to the required area so, to progress, it has not dried up and were a little on the edges of the tiles. Lay the tile along the line of grooves on the back side. The thickness of the joint for ceramic tiles is 8-10 mm. To create equal joints, use TIC, as shown in the photo above. For tapping of the tiles, use a rubber mallet.
To avoid scabbing of the vertical tiles, horizontal needs goes over. If you want to cut the tile, it is better to use tile.
Important points:
- you need to start work on laying ceramic tiles from the upper step,
- the vertical tile should go under the horizontal,
- put the steps in the yard under the slope 1-2 degrees
After the completion of paving works, steps day not to use. After a brief drying, the adhesive must seal the seams with special grout.
Video examples of styling
The video shows how to fit tiles on stairs of granite:
Another video on laying granite ... (ladder):
Laying porcelain tiles on the steps from Vladimir Kondratiev:
An interesting version of a porcelain stoneware staircase under a tree:
Liked the article? Easily share your bookmark with your friends, social. networks: