When we're going on vacation to the country, either we leave the back yard of their infield, I want to take a break from everything, drink a Cup of coffee and relax. That would stay in the garden was more intense, often there are unusual, making a unique garden style. All the elements of decoration of the garden are in one big category
small architectural forms
.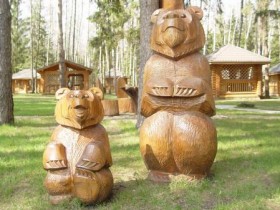 For small architectural forms (MAF) include gazebos, bridges, swing, garden figures, fountains, ponds, and other elements of landscape design. Not only are they decorative, but functional properties (for example, lighting plot). It should be understood, what the LFA needs to be combined with each other, blend in, making the garden comfortable, and most importantly to be made of quality materials. If you are a creative person you can make any architectural form his hands, then will save money and the garden will be unique!
Classification of small architectural forms in landscape design:
Currently, it is possible to classify the IRF for such features:
By appointment,
In materials,
Use plants.
Consider each group of small architectural forms.
The LFA on purpose
And then again, to be split into groups of MAF, because. they carry two main purposes: visual decorative addition to the garden and functionality.
With regard to functional purposes, that it relates to:
The delineation of the territory.
That would visually divide the garden into a place to work, rest, equipment for garden, using such architectural forms, as:
Also in this group dividing architectural forms are the elements of decoration of the garden, such as: topiary, garden sculptures, drinkers and bird feeders, birdhouses etc. They can visually separate the space for different purposes part of the garden.
The creation of places for recreation
Because. in the HOMESTEAD area, we not only put the records on the cultivation of agricultural products, but rest, we need special places to stay. There will come in handy such MAF, as:
The welfare facilities
To ensure comfort in your garden you can use all design techniques, that exist. For the convenience of using such architectural forms, as:
The LFA in materials
The MAF is very wide. Popular materials are:
Tree,
Metal,
Concrete,
Stone,
Gypsum,
Ceramics,
Plastic.
A variety of materials due to the fact, what styles of garden are different, and we need, what would blend in.. Of course the price of the LFA will be different. If the product is made of marble or granite, the price will be very high, but for beauty and durability will be guaranteed. Plastic MAF much cheaper, but it does not look so impressive.
The LFA on the use of plants
The LFA's are using different plants and without it. With regard to architectural forms without the use of landscaping – we looked at them before, and again to dwell on this.
The LFA with the use of plants divided into the following types:
Lawns. Are a decorative cut shrubs, which serve as "green walls". Such architectural forms were very popular in France in 16-17 centuries. Today is also the decoration of gardens with lawns.
Vases with flowers. It seems unusual, but if you buy decorative flowers, Yes, and even decorate pot with their hands, then, the IAF will definitely be evident
Pergola. Represent the canopy, which has walls and roof made out of lattice, are interwoven vines. The pergola will serve as an excellent place to stay, the more, if you put it in a table and make a grill. See how to make a wooden pergola on their own and decorating pergolas + photo ideas.
Trellis. Used for fencing of farm buildings from the rest. A trellis is a support of metal or wood, entwining vines.
How to make a hardscape with their hands?
To manufacture small architectural forms with their hands do not need to be an expert or have Golden hands. Just enough to have a bit of creative thinking, free time and some theoretical knowledge. Regarding the latter, the Internet is full of a lot of brilliant ideas to create various architectural shapes with their hands. There is nothing easier, than to create a garden figurine from plastic bottles, either feeders from a cardboard pack, the main desire. Especially if your garden will be decorated exclusively with sculptures and forgeries of his own work, then the uniqueness and beauty of this garden is guaranteed. I wish you success and masses of creative ideas!
Liked the article? Easily share your bookmark with your friends, social. networks: