We all have a memory picture of my grandmother's garden, which is so full of rustic comfort and beauty. Most city residents dream of the plot, which will return us to the young of the year during the holidays. Exactly in this garden style is a country style.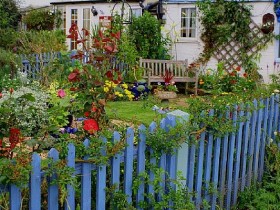 In order to create a garden in a rural country style, you must obligati in its memory and remember that you we saw at the cottage with grandma and grandpa. In General, country style almost not to have their own criteria design, the only one – the infield in the national color. Of course, what country style the Germans, the British, Slavs and Africans will strongly differ, and the only similarity is the fact, the design used in the style of ancient design sites. As for "our" peasant style, then it must be present the elements of decor, which we will discuss with you below.
Mixborders for country style
The main feature of the agriculture of the plant world is the complete elimination of exotic plants. And why they are needed? Very harmoniously will look exactly mixborders, not conventional beds! Elements of a flower garden can be chamomile, mallow, marigolds, irises, chrysanthemum, santbrink, nasturtiums. For wet and zatesannyh garden suitable hosts, ferns and daylilies and varieties colors for lazy gardeners.
Ornamental plants for rural garden
First, what I remember in my grandmother's garden is a bright high sunflower, peek-a-Boo from behind the fence. Here it is possible to use as decoration for a garden plot. Also good option would be the landing of the maiden grape bushes and ornamental grasses. As for the bushes, it is recommended to decorate the garden with rose hips, lilac, Guilder roses and climbing roses. To chase away the flies from the garden plant elderberry
Beds with vegetables, medicinal and aromatic herbs
To protect vegetables from pests, put at the garden are marigolds and nasturtium, which will give your garden a picturesque view. Because. country garden is not only a decor, but also the sponsor of various vitamins, will plant some vegetable patches (tomatoes, zucchini, pepper). About the role of fruit trees, I think, you guessed it. Combining the useful with the pleasant, plant near the garden path apricot, cherry, Apple, that will brighten the spring garden with their blooms.
Lawn garden rural country style
Instead of laying out the surface of the ground lawn use Moorish lawn, which perfectly complement the flavor of the garden plot.
Moorish lawn is a mixture of several kinds of unpretentious flowers, such as: cornflowers, chrysanthemum, len, Maki, calendula, nemesio, daisies etc. These plants will not only beautify the garden with their bright color spots, but to attract butterflies, bees and other beneficial insects. The advantage of the Mauritanian grass is easy to care for (need to trim it once at the end of the season) and the fact, what seeds, scattered flowers, ensure yourself restoration of the lawn next year, here is a cycle.
9 tips for unique landscape design in country style
You don't need to have a cottage or country house, the cottage, to be inspired by these charming ideas garden. But if you are ready to apply the rural style now, these useful 9 tips will help create the dream garden in country style, adding your creativity and having peeped at others. So, went!
Plant mixed flowers instead of grass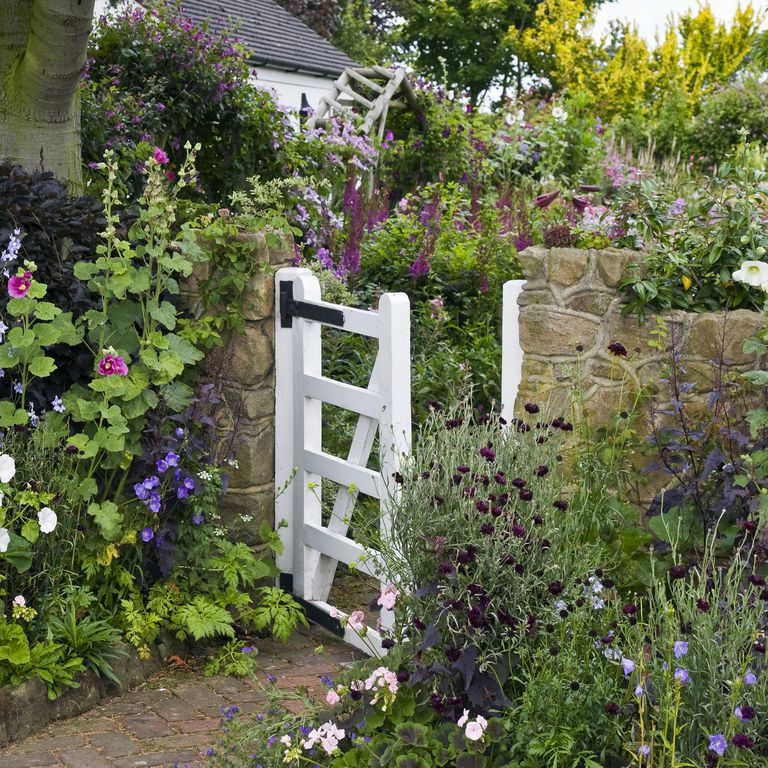 Secret garden cottage style is to create an informal, but attractive of the landscape through the crowded flower-beds of various colors and textures. Replacing the manicured lawn mixed colors, you create a relaxed atmosphere, which celebrates the gifts of nature in its beauty and naturalness.
Add a gazebo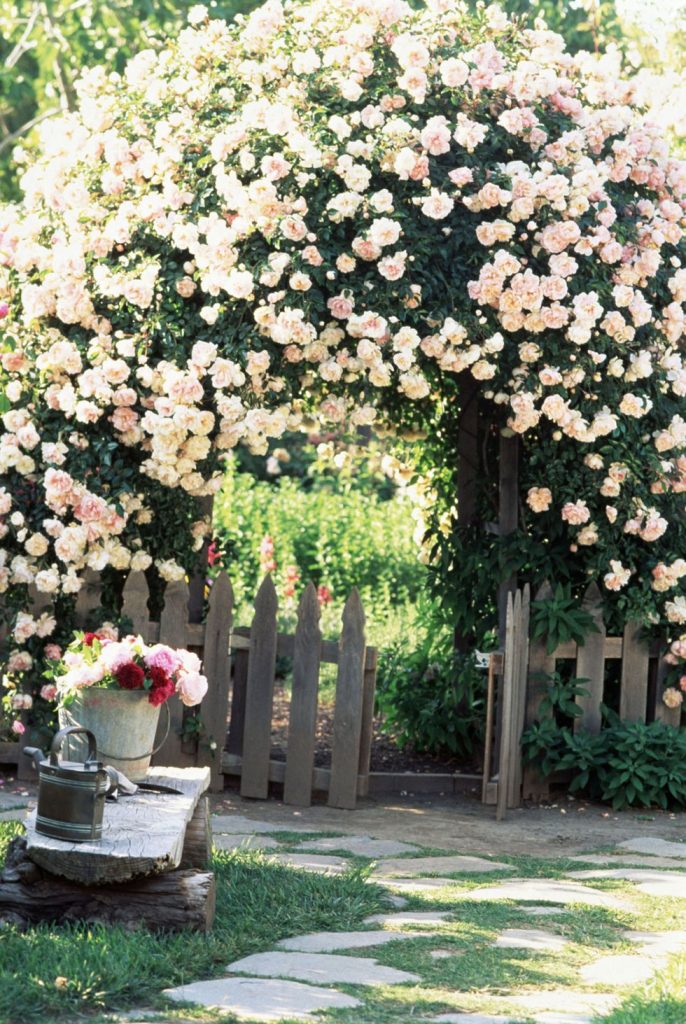 Adding arbors in country style will instantly transform your garden into a romantic escape, not to mention it's a beautiful place, to demonstrate the climbing flowers and green vines. Draped with flowers and greenery gazebo, will give in hot weather, cool shade, freshness, cool and pleasant aroma of flowers, with a unique external beauty of the most garden gazebos.
Make creative
First of all, your garden needs to be organic, relaxed atmosphere. Apply standard approaches in the design of flower beds and flower beds, use the handy, available materials, like for example flower beds from rubber, colorful boots, shown in the photo above.
Add vintage accessories
Nothing in your country garden should not look too polished. In this vein, it is best to use garden accessories landscape design, that look like vintage, for example, weathered pitchfork or an old watering can from galvanized steel, a pair of rusty cans for water for the garden, "grandmother, rural style garden".
Create a winding garden path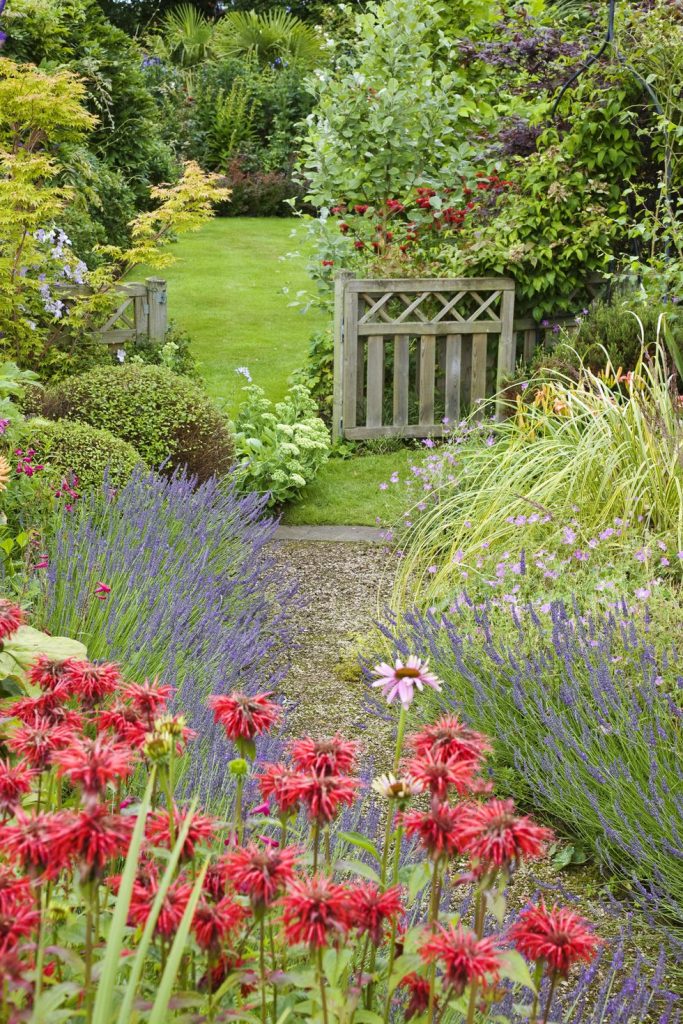 Use gravel to pave a winding garden path, which wags along with your flower beds garden style. To avoid any straight lines in country style landscape design suburban area or cottage, instead, let the wind on the way "to mimic the granular nature of the flowers" about paths of gravel.
Build a white picket fence wooden fence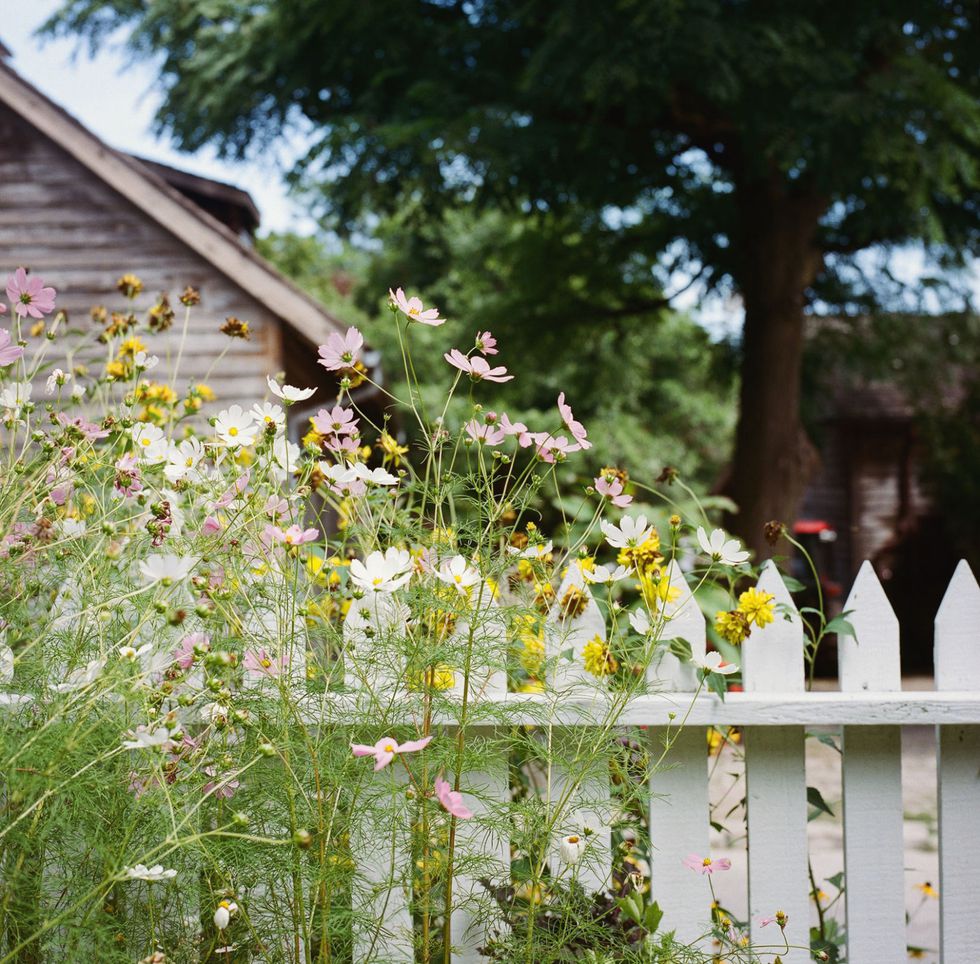 Keep the beauty and cleanliness of your garden of country style, adding decor for wooden picket fence, white. In addition, there is nothing more beautiful, than bright colors, looking out between the white fencing.
Grow luxurious, fragrant flowers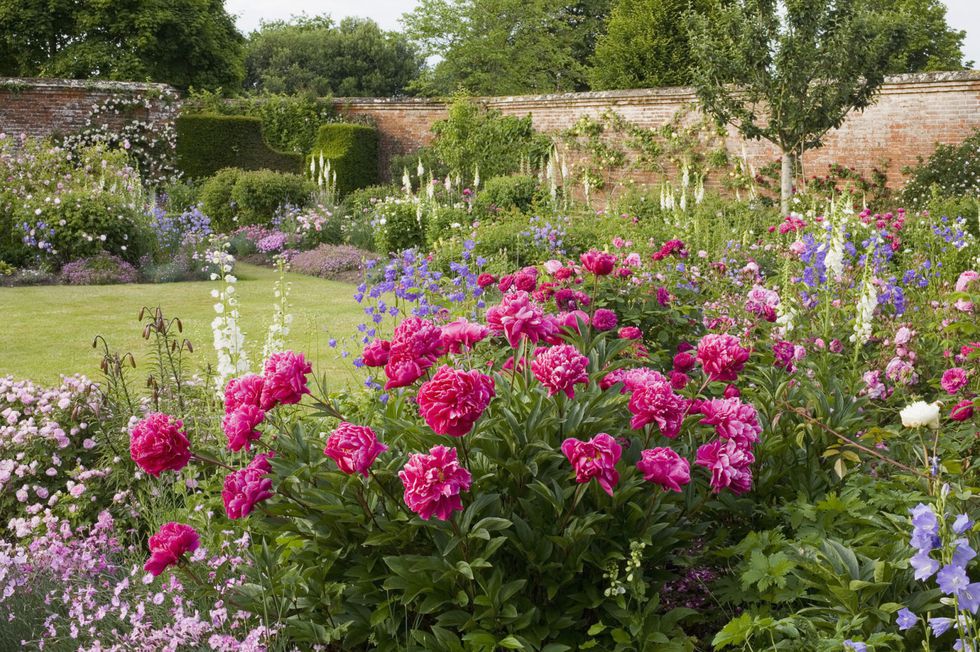 Garden style is the abundance of old-fashioned flowers, such as roses, bells and peonies (in the photo above). As a bonus: your garden will not only look beautiful, it will smell so well is amazing.
Add old or creative repurposed furniture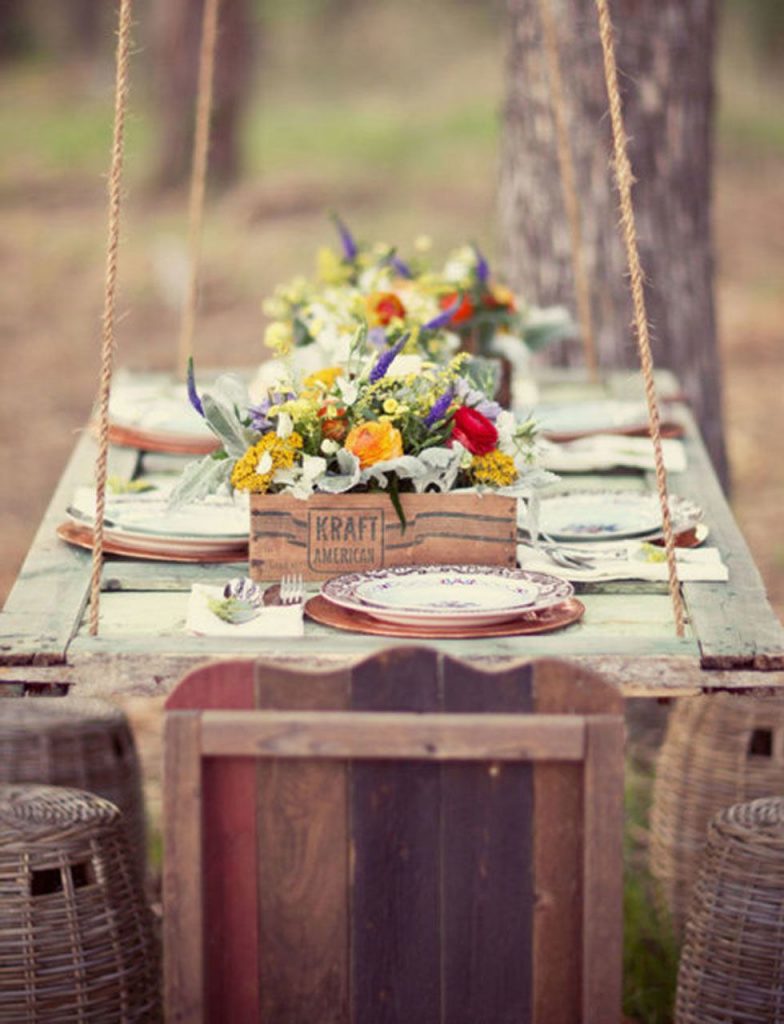 Every garden should have a place, where you can sit and enjoy them. Try to hang an old wooden door on the rope to a tree branch, for great places, to eat and to give the country style of creativity, in his garden plot design.
Embrace the natural features of the garden, such as slope, hill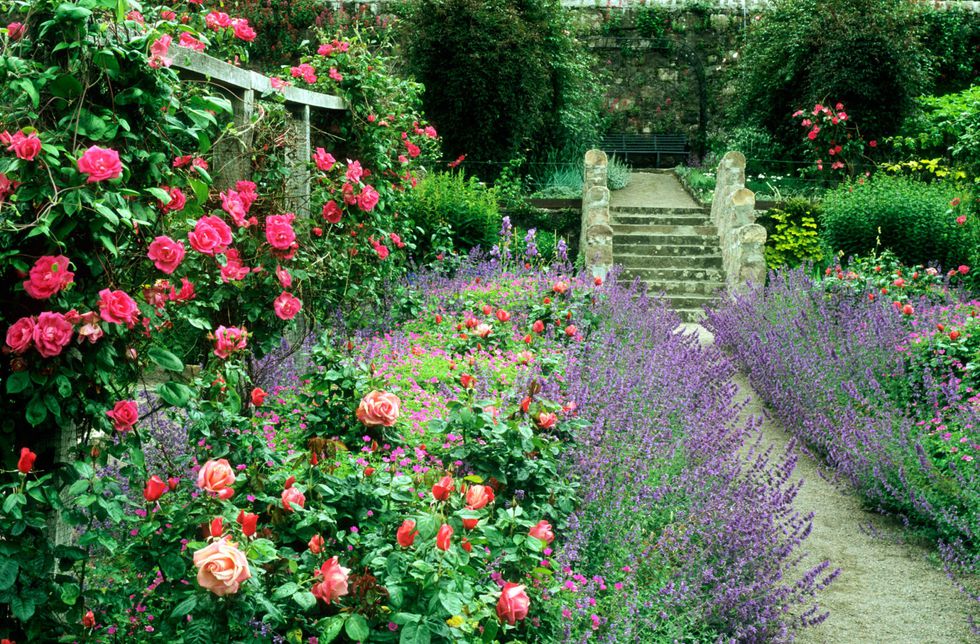 Garden country style celebrates natural landscape features of the area, such as hills and streams. So, if your garden is built on a slope, work with it and install a small ladder, and below it, the Creek and pond.
These useful tips will help you to create your own garden in country style, or country style, using all the nuances of your area and conditions.
Liked the article? Easily share your bookmark with your friends, social. networks: