The role of podvorotnya in the design stony garden cannot be overstated. On each Alpine hill has its small and delicate mountain views, high soloists, stand out from the crowd not only growth, but color. But, the main crops on rocky areas still remain the, which form natural mats. Green draping shaping the mountain landscape, that looks like a piece of wild nature, but it is conceived and created by a caring gardener.
Range of groundcover plants, commercially available, great: among cultures there are large clumps and dense, modest pillows. All plants, serving for this purpose, can be divided into two types:
decorative foliage;
blooming.
We are not talking about complete domination of any sign: deciduous bloom, although modestly, a blossoming of culture differ with foliage. Some plants to rocky hills can decorate the garden even in winter time, they are not afraid of cold weather.
Features, what to pay attention?
Povorotnyi planted immediately after tree crops, they are best placed at the foot or on top of hills, combining texture and color stains, in order to obtain spectacular transitions. Sun-loving species decorate the hot South side, shade-tolerant – places with partial shade from large boulders, shrubs and trees, of the cleft and the North side plantings.
Rules of selection of places for podvorotnya in rock gardens
On top of the host plants, which are resistant to drought: carnation, iberis, burachok rock, young, thyme. At medium altitude are plants, resistant to heat and drought: Phlox subulate, obrieta, Stachys wooly. In the shade of boulders, at the foot of the Alpine hills are planted mats of liatris or repucci.
In terms of rocky garden povorotny will play the role of camoufleur unsightly areas of soil, voids, fill the space near the bushes and soloists, will create the background for the stairs, waterfall, statues and other architectural elements. Natural carpet emphasizes a beauty of the most valuable plants, will make the landscape natural. The most important advantage of these plants the ability to grow on stony and not very fertile soil. Most groundcover crops frost, tolerate drafts.
Species and varieties
Phlox subulate
The slopes and plains of the Iberian Peninsula literally tightened solid pink cover this plant. The floriferous povorotny able to create the festive mood of the rock garden, to block the bright greens and spectacular spots. Palette of colors – different shades, derninki look attractive and after flowering.
The plant is placed at mid-height and at the foot, in one of the rock gardens or rockeries do not use more than two colors, shades are not limited to.
Growing conditions
Phlox loves bright light, it fits any soil, in addition to sour, dense, clay and marshy. Before planting, it is treated against weeds.
During the period of regrowth is watering every two weeks, and after flowering plants continued to be watered, if there is a severe drought. Fertilizing is complete fertilizers two weeks before flowering and after flowering, during intensive growth. Spring plants a boost, with the aim of closing holes, after flowering is limiting the growth of crop.
For the rock garden you can use other types of Phlox:
large-flowered and compact Phlox Douglas;
many-flowered Phlox with fragrant blue and white flowers and smooth leaves;
Phlox snow foaming white flowers;
Phlox forked – evergreen culture with dissected petals.
Cerastium
Herbaceous perennial forms a dense derninki of the creeping stems. Greens – silver, small solid, the densely pubescent flowers are arranged oppositely, the Corolla is wide open, middle – bright yellow. Carpet turns almost felt, it looks most attractive during flowering. Luxurious texture plants well emphasizes the nature of the stones.
A yaskolku on steep slopes, at the foot of the, in the hollows between large boulders.
Growing conditions
Perennial light, like bright sunlight, soil – well-drained, with the addition of peat. In the spring the soil, where a growing culture, cleaned. If there is a need, it is crop growing clumps. For hills and rocky gardens all types of plants:
cerastium felt;
yaskolka bieberstein;
cerastium grandiflorum;
cerastium purple;
cerastium Alpine.
Arabis or rezucha
A dense cushion of virus consists of small outlets, creeping shoots root quickly in the soil, they look patterned, and a dense. Rich dark colour of green is always a contrast to the others pochvovedov cultures.
Arabis blooms modestly, but sweet and abundantly. Thick dense brush and pads are pinkish or white flowers similar to sea foam. In the bright areas, the culture is beautiful.
Include arabis on the slope, at the foot of the, as an accent or universal camoufleur.
Growing conditions
Culture prefers full sun or partial shade, ideal soil: dry, sandy, loose, improved, dug before planting. Requires weeding from weeds, curbing sprawl by shortening long shoots, shelter for the winter and protection from strong sunlight in case of early snow cover.
The most popular types:
Alpine arabis to 30 cm tall, shoots – highly branched, leaves – oval, delicate flowers on raised stalks;
arabis braveny, very dense, cushion, leaves collected in the outlet, the flowers are white, graceful, rare;
arabis running with tight rosettes of leaves, good fixes scree slopes;
arabis caucasica with bright foliage and decumbent shoots;
arabis undersized, large-leaved species;
bright, emerald painting arabis resnitchaty and arabis palanichamy;
arabis pink with soft romantic flowers;
variegated, dry arabis Ferdinand Koburgskogo.
Saxifrage
The name speaks for itself: in the family United more than three hundred species of plants, who share a love for rocky soils. Culture delicate, tight or loose, the leaves collected in the outlet, hard, bright. Even with the hot weather on the South side of saxifrage look radiant and fresh, oblivious to the drought and heat. Bright color of leaves looks good on the background of stones, boulders. Cute five-petal flowers look very attractive, they look like a scattering of stars luxury.
Saxifrage feature at the foot of the hills, in flat rockeries, large boulders.
Growing conditions
The plant requires bright light or partial shade, soil – light, lime. In extreme droughts require watering. You need time to remove weed culture.
The best species and varieties:
Saxifraga Arends, grows quickly, bumps-hemisphere have openwork, dense texture, similar to moss, flowers – pinkish;
Saxifraga soddy, numerous varieties, flowering;
saxifrage musky and Pontic forms a dense turf of small leaf rosettes;
Saxifraga granular, characterized by serrated leaves and large white flowers;
Saxifraga mozzevelovaya, really similar to ephedra from leaves needle-like shape, forms a graceful, green pillows.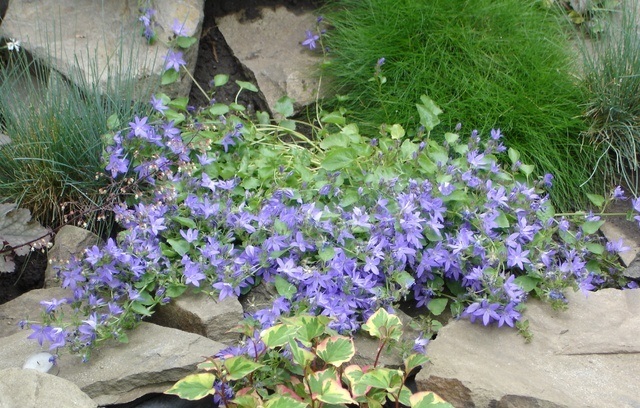 Bells
Cute, the well-known "Tsvetik steppe" look good on the terraces, at the foot of the, average, on the ledges. Spectacular rock garden decoration, which can be arranged between the boulders and stone chips.
Growing conditions
A crop that requires partial shade light or good lighting, drained, well-designed, non-acidic soil with excluded risk of stagnation. For normal flower development and requires nitrogen fertilizers in the initial stages of vegetation, before budding is made of complete fertilizer. Necessary loosening of the soil, weeding, remove fading flowers, in autumn cut at the root.
The best varieties and types:
bell Chamisso, low perennial forms a solid Mat of small rosettes of large glossy leaves, flowers – large;
the Carpathian bell with a growing steroidnami the bumps, covered with funnel-shaped curved, looking up flowers;
miniature bell cushion, height to 5 cm, lace pillow tight, gray-silver, flowers – dark purple;
bell Pozharsky, prefers partial shade: large-leaved with bright color green, star-shaped flowers and delicate cushions;
bell Portenshlaga with evergreen leaves and purple flowers;
bell ochrana with a loose sod, slender shoots, succulent leaves, dotted with bells of the classic shapes and colors;
bell dark with purple flowers on long stalks, rising above the loose, low carpet;
bell lozhechnitselistny or spirality with bright blue flowers, inflorescence of, deminka dense, formed from threadlike shoots;
bell soddy with single blue or white flowers and oval leaves.
Obrieta
Groundcover, making a charming crimson and purple spots and accents in the design of the rock garden. Cute flowers with a light eye – temporary pleasure, but the lush green tone of the leaves is retained throughout the year. Obrieta very nice covers bright rock stone, creating amazing, the original contrasts.
The effect of festivity, lace weaving is provided by the combination of erect and creeping shoots, small leaves densely harboring runaways. Flowers with four petals, cover the foliage completely and not create over it weightless dome. Obrieta frost, can decorate the garden just after the snow cover: foliage was retained in all conditions. On the Alpine hill plants are placed at the foot at mid-height, in combination with white stones, limestone.
Growing conditions
Required solar, but moderately hot area with limestone soil. Culture watered only in extreme drought, planting mulch sand two to three times per season. After flowering, the plant is cut. Shelter for the winter dry leaves is only required in the Northern regions.
The best varieties:
obrieta cultural, forming a bluish clumps with different decorated, variegated colors;
obrieta deltoid with the bright colors of blossoms, detention center-emerald cut greens;
obrieta graceful with slender shoots, forming bumps or open wide;
obrieta croatica, beautiful, floriferous form.
Ayuga
Dark, purple ink, unusual povorotny, which is also called Ajuga – best background partner rocky garden. Near ayugai look good, and the usual greens of flowering plants and decorative foliage culture. Apparently not very neat clumps reveal their beauty immediately, gradually. Ayuga has not lost its attractiveness for dozens of years, it is easy to grow, easily tolerates winter. On the Alpine hill culture is better positioned on the flat parts, at the foot of the.
Growing conditions
Culture easily adapts to any lighting and any soil, even dry. Ideal – loam, a light fertile soil. Requires watering in the dry season, in spring the plant introduced mineral and organic fertilizers. The fading blossoms are removed.
The best view: Ajuga creeping, the leaves are mottled purple and chocolate.
Varieties:
Multicolor;
"Variegata";
"Chocolate Chip";
"Burgundy Glow";
"Variegata Rubra".
Alpine slide is one of the most beautiful and spectacular garden structures, allowing to show the grower your wildest fantasies. Well-chosen plants create a unique landscape and minimize agronomic concerns.
Photos of different types of groundcover for the rock garden
Video about growing plants for the rock garden
Liked the article? Easily share your bookmark with your friends, social. networks: